Entertainment & Events
This Weekend in San Diego: Arts, Yoga, Beer and more!
By
|
Hey San Diego, this weekend is rain-free, which means it's the perfect time to get out and start exploring. From daytime adventures of yoga and art, to nighttime celebrations of movies and Mardi Gras, this weekend has it all! The only question you'll have to ask yourself is, who will you be bringing with you?
Day Time:
This Saturday, join the Port of San Diego as they welcome the public to celebrate the arts at the new National City Aquatic Center. Bring your kids, and enjoy a day of prizes, games, free food, and the newly-restored 17-foot Sea Dragon sculpture. The Port of San Diego's Office of Arts and Culture exists to bring awareness to the community of art and culture pieces that exist particularly on the waterfront. Currently there are over 70 permanent outdoor art pieces in the San Diego Bay, with the addition of temporary pop-ups displayed year round. Enjoy the arts this weekend, and all for free! 
For the cult followers of Japanese animation films, you'll want to know about this. My Neighbor Totoro will be playing in English at Ken Cinema on Sunday afternoon. Grab your ticket for just $7.50 at this 11AM showing. The story of two girls moving to the countryside with their dad, to discover a whole new world of creatures that only children can see, will awaken your imagination ahd bring you back to childhood. This movie's a great flick for kids and adults alike!
Every 2nd and 4th Saturday, the Museum of Man hosts a yoga class in the rotunda, hosted by a Yoga One instructor. Step inside the rotunda an hour before the museum doors open, and experience the beauty and peace without all of the external noise. Classes are geared toward all skill levels, and encourage each participant to go at their own pace, listening deeply to their bodies. Museum members and employees get in for just $5, and all others are welcome to sign up for the E-Club for a $10 admission price. Check it out this Saturday at 8:30AM!
Need I say more? Support the Girl Scouts this weekend by stopping by one of the three Mike Hess locations (Miramar, Ocean Beach, and North Park) and sip on a pairing of 5 beers and 5 Girl Scout cookies. Really, what could you be doing that's better than that this weekend? And plus, if you're up for a challenge, put your philanthropist efforts to work by visiting all three locations and receive your very own Girl Scouts-inspired patch! A portion of the proceeds from this event will go to support the San Diego Girl Scouts.
This Sunday marks the beginning of San Diego Theatre Week! Get discounted tickets on all things comedy, dance, music, and theatre from venues throughout San Diego. Here's a snapshot of Sunday's shows:
Beau Jest – Patio Playhouse Community Theater – 2PM
An Iliad – New Village Arts – 2-4PM
Shadowlands – Lamb's Players Theater -2PM
9 to 5: The Musical – Spreckels Theatre – 2-4:30PM
Freaky Friday – La Jolla Playhouse – 2PM
Find out more details and the full schedule here. 
Night Time: 
Are you wanting to spice up your Oscar-watching party this year? Join the party at Cinema Under the Stars, San Diego's premier outdoor theater. For $60 a person, get exclusive access to a big screen viewing of the awards, including a small plates menu from The Patio and Lefty's Chicago Pizzeria, house wines and beer, and a chance to get photographed on the red carpet. Get out your cocktail finest and enjoy the Oscar's in style this year. Oh, and in case you don't like being limited by "house" alcohol selections, BYOB/W is allowed as well.
Can you believe March is almost here? Us either. Where did February go? Well, the end of February means Mardi Gras, which in San Diego is a big deal! Join the Gaslamp Mardi Gras Party Hop this Saturday night, and get the celebrations started! We laid out the details here.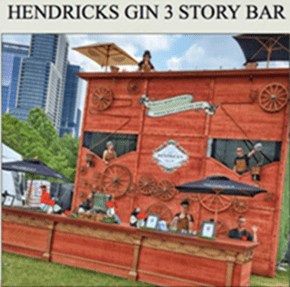 Get out there and make it a weekend you won't forget!