Entertainment & Events
This Weekend in San Diego 8/30-9/2
By
|
Summer is officially ending and it's time to celebrate Labor Day! San Diego is putting on quite a party in order for you to prepare for the next season. Enjoy delicious beverages and the San Diego sun as you wave goodbye to summer.
Friday, August 30
Celebrate the weekend in style as you make your way through all of San Diego's most popular wineries with San Diego Beer and Wine Tours. Enjoy transportation and 3 local vineyards where you can enjoy all of your favorite wine and of course, your favorite cheese, starting at $149.
Head to George's at the Cove Ocean Terrace for Tiki Fridays in La Jolla. Enjoy special cocktails and prepare for the long weekend ahead as you take advantage of your Friday night. Take in the perfect beach view with your delicious fruity drink in your hand.
The Belly Up Tavern is putting on the ultimate happy hour with great music, a raffle, and delicious treats. Enjoy the live music from 5-8 p.m. and dance the night away.
Escondido's long-running car show – Cruisin' Grand – hits the streets once again. The free event features a parade of pre-1973 cars slowly cruising up and down Grand Avenue, from vintage American hot rods and classics to custom rides. The event also includes live music.
Saturday, August 31
The U.S. Sand Sculpting Challenge and Dimensional Art Exposition will take place along San Diego's waterfront. Get ready to feast your eyes on three days of incredible sand art creation. This weekend, the public will have the chance to view all 20 of the completed sand sculptures up close before they're wiped out Tuesday.
End summer on a high note by joining JSix on Saturday, August 31 for a Frankie Avalon-themed Labor Day pool party. The rooftop event will feature live music from "Surf's Up," a Beach Boy's Cover Band, tiki-inspired cocktails, all-you-can-eat BBQ classics and coastal cuisine from 4-8 p.m. Tickets to the event can be purchased HERE ($38).
Come out for the opening in Scripps Ranch location that very much aligns with the values of transparency and sustainability and offers what their chef calls "adventurous superfood." Enjoy the Grand Opening at 10:30 am, where they'll begin the day with a performance from Chinese Line Dancers in which the brightly painted tossing heads and synchronized snaking lines of dancers form the body of the lion who brings good fortune, or the dragon who chases away misfortune and evil spirits. Come join to get the first taste and look at what Enclave is bringing to the table!
The final Friday night event hosted by 10 Barrel Brewing in East Village is happening this weekend. Guests can enjoy free live music on the rooftop alongside their pints. Happy Hour specials include $4 beers from 3- 6 p.m.
Former Blink 182 frontman and San Diego native, Tom DeLonge, will be performing with his band, Angels & Airwaves at the Del Mar Racetrack. Admission to the show is free with purchase of a ticket to the race track. Tickets are $30 to the show if you arrive after the last race.
Sunday, September 1
This Sunday Funday Bar Crawl will definitely put you in the spirit for Labor Day. For $30 you can fill your Sunday with libations from Sign of the Whale, American Junkie, Bassmnt, and Parq, with free drink tickets and drink specials all night long.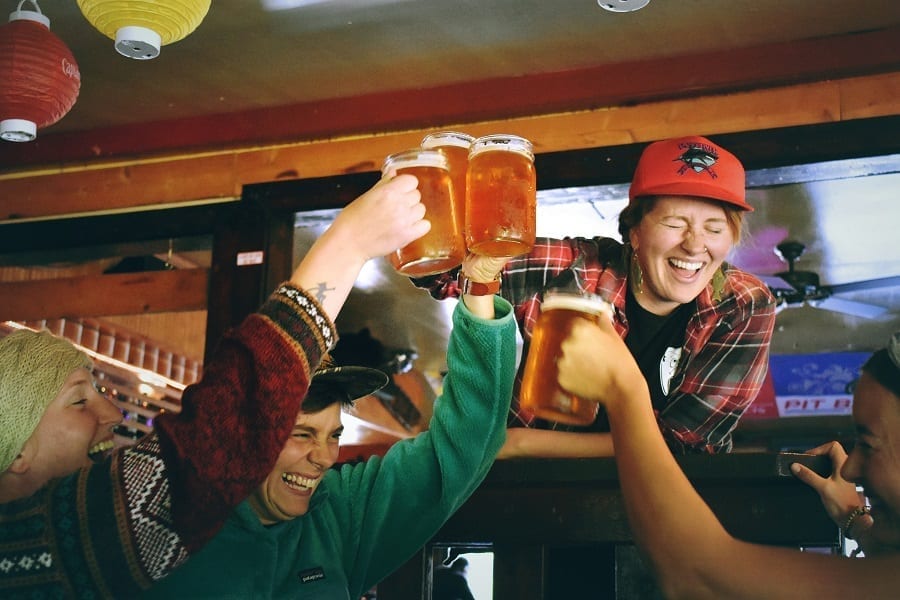 Doors open at 8:00 p.m. with no cover charge for this fun Labor Day bash! Don't miss out on the chance to dance the night away to country music at your favorite bar.
Don't miss San Diego native, DJ Sam Blacky, at the Pendry this Sunday. They'll be rolling out all the stops for a weekend-long party to celebrate the holiday. The fun in the sun begins at 1p.m.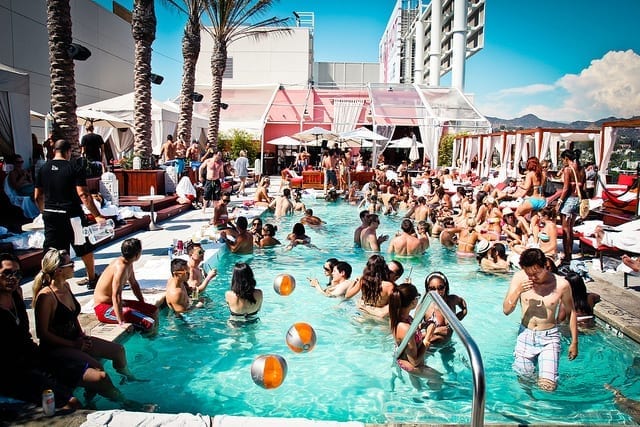 Monday, September 2
Head to Balboa Park for a day of exploring on Labor Day. Monday is the final day of the landmark's "Art of Summer," featuring special museum hours, exhibitions, and activities.
Rooftop Cinema Club will be showing The Notebook (2004) at 8:30 pm atop Manchester Grand Hyatt San Diego. With its stunning views of the city from every angle imaginable, Rooftop Cinema Club is revolutionizing the movie-going experience in its unique and one-of-a-kind setting underneath and among the stars. Open to adults 18-and-over. Ticket prices start at just $17 per person for a single deck-chair underneath the moon and the stars. Get your tickets here.