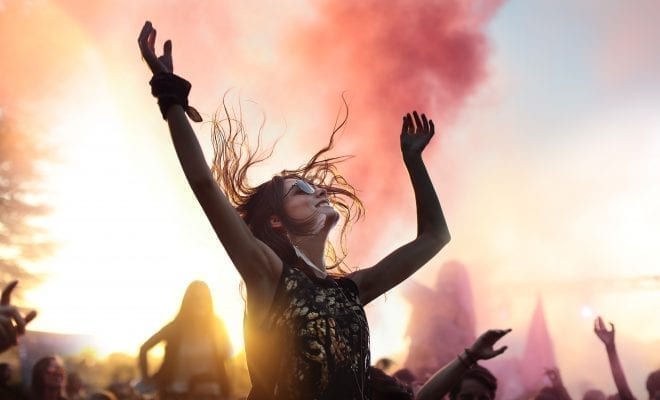 Entertainment & Events
This Weekend in San Diego 3/1-3/3
By
|
The first weekend of March is upon us, which means San Diego is revamping weekends for the great outdoors, like beach yoga, music festivals, bar crawls, and family-fun activities. In preparation for Mardi Gras, San Diego is starting the party early with bar crawls, 5Ks, and more. Despite some showers predicted for the weekend, there's still tons to do – check it out!
Friday, March 1st
Del Mar Fairgrounds; 10 am – 5 pm
The 34th annual event will return all weekend long. Whatever your next house or garden project, you'll find the experts at the San Diego Spring Home/Garden Show. Get new ideas and inspiration from the experts who have created vignettes and display gardens just for the show.
Tickets: $5-8
Marina Village Conference Center; 10 am – 2 pm
The San Diego Bird Festival, presented by the San Diego Audubon Society will be celebrating the wild birds and habitats of our county, which truly offers some of the best birding in the U.S. The Festival supports the education, conservation and sanctuary programs of San Diego Audubon Society, so by attending, you'll get to see the birds and help them too! This event is perfect for families who want to learn more about the importance of wildlife. The festival is from February 27- March 3, 2019.
Tickets: $20
Del Mar Fairgrounds; 10 am – 6 pm
The Gem Faire is the perfect place for jewelry makers of all levels to get their hands on rare and unique stones, pendants, and all things accessories. At the Gem Faire, you'll find everything – from hand-crafted, one of a kind accessories, to individual pieces to get you started on your own jewelry-making journey. Enjoy a day out shopping for precious jewelry, gemstones, and crystals from over 70 different exhibitors.
Tickets: $7
Liberty Station, 5-9 pm
Taking place on the first Friday of every month, Friday Night Liberty is San Diego's biggest monthly art walk! Meet working artists, enjoy dance, theater and music performances, visit museums and galleries and explore the growing District.
FREE
Saturday, March 2nd
Waterfront Park; 12-10 pm
CRSSD Festival is a two-day electronic music festival at the 12 acre San Diego Waterfront Park featuring three stages and 36+ performers. In addition to the music, the festival will offer craft beer, mixed drinks, food, and more.
Tickets: $110-$220
City Tacos Imperial Beach; 805 Ocean Lane, Imperial Beach CA 91932.
City Tacos' Imperial Beach location is holding a soft opening for taco fans and City Taco enthusiasts to check out. The beloved taco spot is partnering with Mike Hess Brewing to open a dual eating and drinking spot, just steps from the sand in Imperial Beach. Equipped with both indoor and outdoor seating, this casual setting looks to be the newest beachside hangout.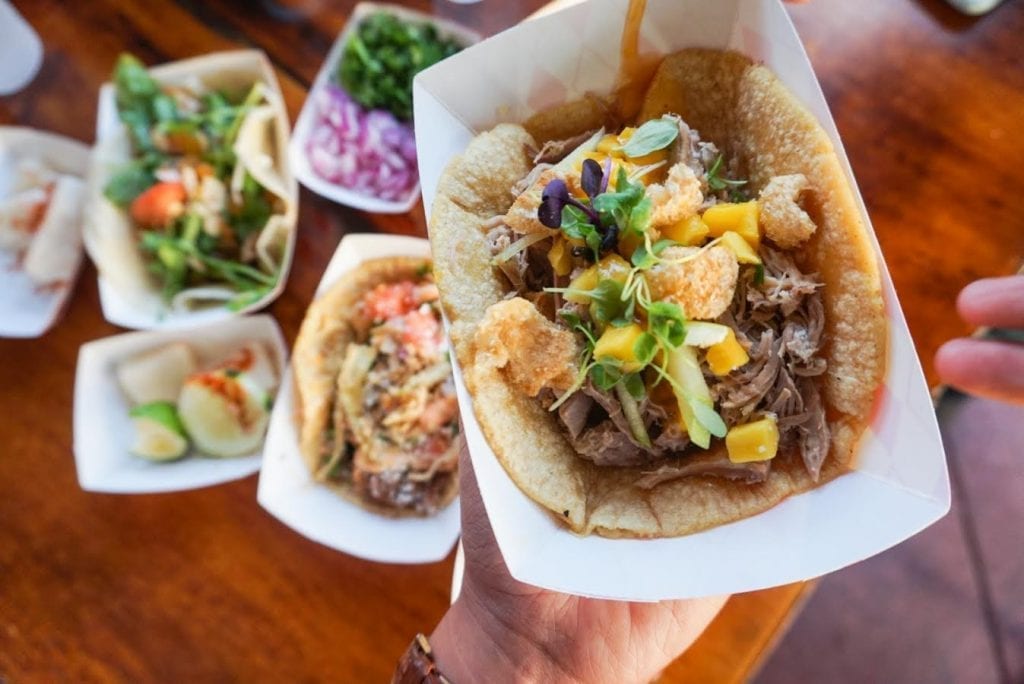 10 Evergreen Avenue, Imperial Beach, CA 91932; 10 am – 4 pm
SDYF is an epic, weekend-long yoga festival on the beach in the most South-Westernly city in the USA in Imperial Beach, San Diego. It is San Diego's largest yoga festival reaching thousands of holistically-minded (or curious) people! It celebrates humanity and health offering nonstop yoga and healing classes open to all people, of all ages and all levels of yogic understanding.
Tickets: $25 – $216
Liberty Station; 6-10 pm
The San Diego Bartender Shakedown presented by Imbibe was designed to showcase San Diego's finest cocktail bars to the community at large, while highlighting some of our brightest cocktail makers, as well as our favorite spirits.Select bars from all over San Diego County are being brought together under one roof for a "One Night Only" event to highlight some of the best bars that America's Finest City has to offer.
Tickets: $64-$100
Seaport Village; 12-6pm (+18 'After Dark' event: 7-10pm)
The 13th Annual Busker Festival is taking place on Saturday & Sunday. As California's only busker festival, this free family-friendly event showcases a variety of colorful busker performances – from contortionists to sword swallowers – set against the picturesque backdrop of the San Diego Bay.
FREE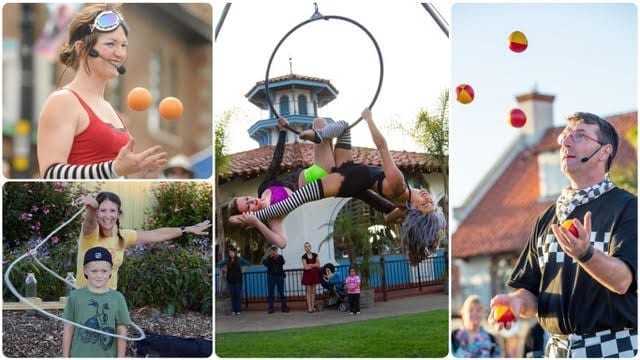 Mission Bay Park; 8:30 am
The National Undy RunWalk is not just an opportunity to run or walk in your underwear. It is a family-friendly undy-themed RunWalk created by the Colorectal Cancer Alliance, with the goal to provide support for patients and families, caregivers, and survivors; to raise awareness of preventive measures; and inspire efforts to fund critical research.
Cost: $30-$40
Tin Roof 401 G St.San Diego, CA 92101; 1-4 pm
The Junior League of San Diego (JLSD) invites the city of San Diego to the Tin Roof for an 80s party equipped with live music by local 80s cover band
Manic Fanatic, costume contests, raffle prizes, food and, of course, beverages. All funds raised at this event go directly back to the organization to support its mission-based programs.
Tickets: $25-$45
Gaslamp Quarter; 12-5pm
Can't make it to New Orleans for Mardi Gras this year? No problem, the Gaslamp Quarter is back to bring the NOLA vibes to Downtown San Diego with yet another dazzling Fat Tuesday inspired jubilee! The Big Easy Bites and Booze Tour is making its way back to bring you the decadent revelry this holiday is all about. Grab your crew and get the full Mardi experience with an edible twist this year with this tantalizing self-guided tour filled with 20 delicious bites and 20 New Orleans inspired sips.
Tickets: $25-$30
California Center for the Arts (Concert Hall), Escondido; 7:30 pm
Austrian magician and mentalist duo, The Clairvoyants perform for one night only. The show offers amazingly entertaining elements of clairvoyance, modern masterpieces of trickery and unforgettable moments filled with thought-provoking fun.
Tickets: $25-$50
Sunday, March 3rd
Embarcadero Marina Park North; 7am-noon
Helen Woodward Animal Center's Doggie Gras 5K & Dog Parade is for the whole family, so bring the kids and pups and enjoy the expansive bay view! Timed runners will complete the race as fast as they can, or register to walk and stroll around the beautiful bay. Stick around after the 5K for the colorful Doggie Gras Parade where you'll see people and pooches in impressive costumes! Enjoy food, giveaways, opportunity drawings, free kid's activities, 5k and parade awards and more at the BARKetplace. Hang out on the lawn with your furry friends and enjoy a day on the bay.
Tickets: FREE-$40
Little Italy Food Hall; all day
In celebration of National Moscow Mule Day, the Little Italy Food Hall will be running a promotion for Moscow Mules on Sunday, March 3. $11 for the Mule and the *copper mug to keep, served all day. Guests can keep it classic with the traditional Vodka Mule, or switch it up with their choice of well spirits.
San Diego Civic Theatre; 1pm & 6:30pm
Among Disney-films-turned-Broadway-shows, Aladdin is a standout, when it comes to production values. It's a magic carpet ride with energizing dance routines, opulent sets, and a witty genie who also narrates the love story of a street boy and a princess. Aladdin uses one of his three wishes to become Prince Ali Ababwa, in hopes of winning Princess Jasmine, only to find that she loves him for his lack of royalty, not because of it.
Tickets: $45-$95
Blvd. Mardi Gras Crawl
The Lafayette; 3-5pm
Mardi Gras mantra "Laissez Les Bons Temps Rouler" is a Cajun French phrase meaning, "let the good times roll." That's exactly what's happening at the final destination for the 2nd annual Blvd. Mardi Gras Crawl down El Cajon Boulevard. The "good times" will roll on with drinks, dancing and gluttonous behavior at The Lafayette, with a special Best-Decorated "Mardi-Bra" contest for those in the celebratory spirit.
FREE