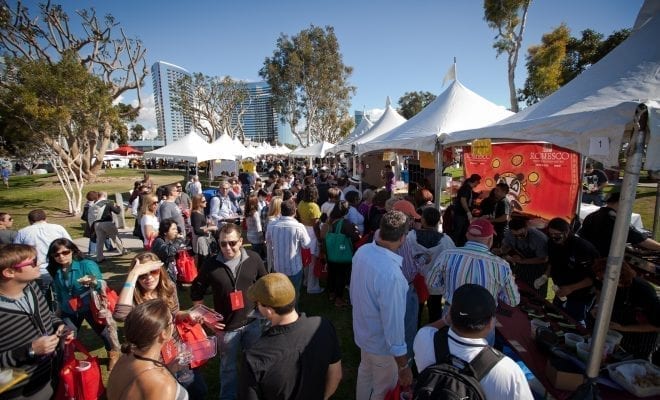 Entertainment & Events
San Diego Bay Wine + Food Festival Rolls into 14th Year
By
|
We San Diegans are, if nothing else, extremely lifestyle oriented. That is the very reason we at the Entertainer & Lifestyles Magazine have made such a commitment to provide you, our readers, with the coolest, fun happenings; whether it be the latest restaurant openings, recipes from the area's top chefs, the latest craft cocktails, and so much other neat 'stuff' and people that make living in America's finest city even finer.
At the very top of our list is The San Diego Bay Wine + Food Festival. In case you're new to town, or have been living here as a monk for the past 13 years, this event has truly become one of, if not the top event of the year. I can't believe the Festival is in its 14th iteration this year, but this week-long showcase of San Diego's vibrant and growing culinary scene, featuring its top chefs, restaurants, farmers and so much more, begins next week and will not disappoint, I promise you.
The San Diego Bay Wine + Food Festival has, without a doubt, become the largest culinary classic in all of Southern California, featuring over 25 citywide events throughout the week in addition to featuring more than 150 wineries, breweries and spirit, companies, 50 really (I mean really) talented chefs and restaurants and 30 gourmet food companies who also participate in the Festival. It truly provides a truly world-class experience for attendees, a fact for which I can vouch, having attended many of the featured events over the past ten years (all in the line of duty, of course).
We caught up with Michelle Metter, a principal in Fast Forward Events, the owner/promoter of The San Diego Bay Wine + Food Festival, who took time out her insanely busy schedule to share some thoughts with us.
E&L Magazine: Michelle, thanks so much for taking time with us. This is an absolute crazy time for you. Let's start at the beginning. How did The San Diego Bay Wine + Food Festival originally come about?
Ms. Metter: "The San Diego Bay Wine + Food Festival started as just an idea between my Partner Ken Loyst and I. We felt that there was a real opportunity to introduce a wine and food festival in San Diego, and about a year later, the San Diego Bay Wine + Food Festival was born. Today, the San Diego Bay Wine + Food Festival has grown into a week-long culinary classic that offers its attendees an exciting and diverse selection tasting experiences that feature the latest culinary trends, hottest restaurants, and highly allocated wines from around the world. The San Diego Bay Wine + Food Festival is one of the largest and most celebrated festivals in the country, and year-after-year places a national spotlight on San Diego and its culinary community."
E&L Magazine:  I can't believe this is the 14th year! Tell us what is new and/or different for this year's event.
Ms. Metter: "This year, the San Diego Bay Wine + Food Festival has introduced several new events, tastings and dining experiences, including Whiskey & Wagyu, an intimate dinner at Little Italy's latest hot spot, Born & Raised; the Cali Baja Brunch, which highlight the fusion of California and Baja flavors during a scenic brunch on the Coronado Island Marriott's Private Pier, and Steve Brown's Farmers Table, where Chef Steve Brown will be preparing a very literal, farm-to-table lunch with ingredients he foraged that very day. This year, we've also introduced FLIX: Fermented, a new experience where food and film converge with a private screening of the documentary Fermented. ​This is a real 4D experience, with curated chef bites that coincide with what you see on screen."
E&L Magazine:  The event has really been successful at attracting some fabulous chefs. Talk a bit about the top chefs this year.
Ms. Metter: "More than 50 chefs will participate in this year's San Diego Bay Wine + Food Festival, representing some of the city's best restaurants and dining locales. Additionally, we are thrilled to welcome talented chefs from across the country, including esteemed Relais and Chateaux distinguished chefs who are participating in Dinner with the Culinary Icons, including: Chef Brady Williams of Canlis in Seattle, WA; Chef Louis Moscow of Inn at 5 Graces in Santa Fe, New Mexico, and Chef Matt Zubrod of The Little Nell in Aspen, CO. Additionally, for the Official After Party following the Grand Tasting Event, Chef Anthony Sinsay of Jsix has teamed up with Chefs Charles Phan of the Slanted Door in San Francisco, Mei Lin, winner of Top Chef Season 12, Katsuya Fukushima of Daikaya in Washington DC." It's a pretty impressive group, that's for sure.
E&L Magazine:  The Festival has also been a source of scholarships, which is very cool. Share a bit about the scholarships.
Ms. Metter:  "The San Diego Bay Wine + Food Festival awards scholarships to students, culinary enthusiasts, and professionals who are looking to further his or her education in the areas of culinary arts, enology and viticulture. Scholarship funds are raised through silent and live auctions held at the Culinary Icons Dinner on Thursday, November 16, 2017 at the Marriott Marquis San Diego Marina. Additionally, proceeds from the San Diego Bay Wine + Food Festival Golf Invitational held on Sunday, November 12, and ticket proceeds from other select events will go towards scholarship funds. To date, the San Diego Bay Wine + Food Festival has raised more than $355,000 towards scholarships."
The event officially kicks off with a golf event/fundraiser on November 12th. Just one of the Festival's signature, can't-miss events are: The Fish Taco TKO, held at Broadway Pier on Tuesday, November 14. The Fish Taco TKO really is the ultimate Taco Tuesday, as San Diego's best fish taco makers go head-to-head to be named the best fish taco in San Diego. The list of events is too long to mention here, but it really provides such an amazing array of wine/food tastings from around the world, experiences with some of the top chefs in San Diego and the country, all topped off with the Grand Tasting on the picturesque Embarcadero Marina Park North on Saturday, November 18. The Grand Tasting is the place to check off your dining bucket list, as you taste from more than 40 restaurants and 700 wines, beers and spirits.