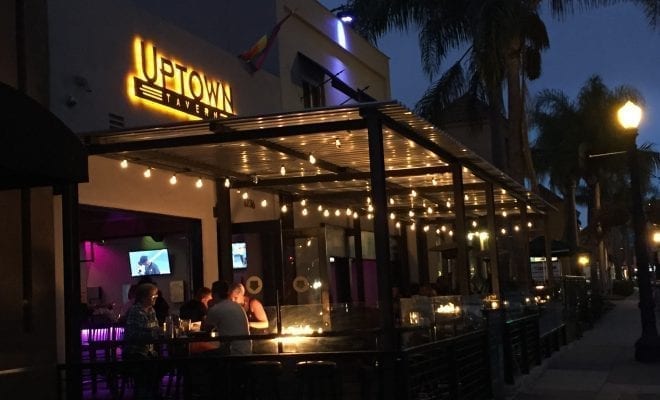 Entertainment & Events
Lights Out: Dining in Complete Darkness at Uptown Tavern
By
|
By: Anton Fredriksen
We're all very accustomed to taking a seat in romantic dimly-lit restaurants, having to fumble with the flashlight feature on your phone or wield the thoughtfully-placed candle on the table for ambiance in order to read the menu. But how about a restaurant that doesn't let you see the menu at all and insists you eat your entire meal blindfolded in pitch darkness? That's the idea behind the new monthly event, "Darkroom – A Dinner Series" at Uptown Tavern. Plus, we are giving away a dinner for 2 at Uptown's "Darkroom – A Dinner Series". Enter to win below!
The objective: By removing one of the senses from the equation—in this case, sight—patrons will be taken on a heightened sensory dining adventure. The idea originated in Europe with various restaurants employing blind and visually-impaired servers. The purpose was to offer a glimpse of insight and perspective on what it's like for a blind person to engage in common daily activities. What many diners gained with their sense of sight removed,—very likely in addition to a few unwanted stains splattered down the front of their shirts—was a new perception of reality and the senses of taste, touch, smell, and hearing all deeply intensified.
While there are no blind or visually-impaired servers at Uptown Tavern, diners will have a fully-immersive experience guaranteed to tantalize, delight and surprise. Executive Chef Mark Molina prepares a new separate unique and creative special five-course tasting menu each month inspired by local ingredients in season. Josh Stout, the head of Uptown's cocktail program then meticulously mixes drinks to compliment and perfectly pair with each course.
Chef Mark says, "the goal by removing sight from the equation is effectively insisting that our guests slow down and take time to savor the aromas, flavors, and textures of each dish in a way that they've likely never done before. We rely way too much on our sense of sight when dining and conclude certain expectations even before we've taken a bite. When you can't see the dish, there are no expectations and the dining experience becomes that much more rewarding."
Beginning as one-time exclusive experimental pop-up dinner last month in May for only 20 patrons in the Arrow Lounge, Uptown's private dining room, the Hillcrest eatery decided to make it a permanent recurring monthly dining experience after considerable acclaim and demand for additional seatings.
Each month the food and drink menu will be a complete surprise, but with dishes like those from the first dinner in the series such as the apple and shrimp ceviche tostada; crispy pork belly confit with cheddar grits and tart cherry chutney; roasted grouper served over chamomile rice, confit carrots and kumquat-rosemary beurre blanc; and finishing it all off with an avocado creme brûlée and pistachio brittle, who could resist?
The new recurring monthly "Darkroom – A Dinner Series"  will still accommodate up to 20 guests at a time in order to maintain the full integrity of the experience. The event will take place on the second Thursday of every month with the next one coming up on Thursday, June 14th. The price for the five-course dinner with cocktail pairing is $49.95 per person and also includes a welcome aperitif cocktail.
For reservations, call the restaurant events line directly at (619) 252-4966. Uptown Tavern is located at 1236 University Avenue, in the heart of Hillcrest.
Enter our giveaway to win 2 tickets to Uptown Tavern's "Darkroom – A Dinner Series" !