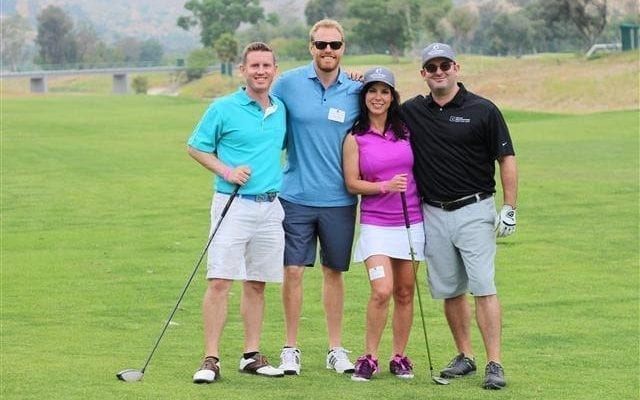 Entertainment & Events
Golfing for a BIG Cause
By
|
On June 8th, Big Brothers Big Sisters of San Diego County is holding their 25th annual Golf Marathon where supporters will attempt to golf 100 holes in a single day at Sycuan Golf Resort.
This popular event has raised over $2.4 million to provide mentors to more than 2,000 children in San Diego County. Golfers are challenged to play as many holes of golf in one day as they can while raising funds to help match children who are waiting for a mentor from Big Brothers Big Sisters.
This year, they have announced that Bill Walton, San Diego native and retired basketball player will emcee the event. Walkton played for the Portland Trailblzers, San Diego Clippers, the relocated Los Angeles Clippers and Boston Celtics. Walton is one of only four players in the history of basketball to have won multiple NCAA and multiple NBA Championships.
There is no fee for participating in the marathon. Golfers raise a minimum of $2,000 in donations (for the full marathon) or $1,000 (for the half marathon) and many exceed this commitment. Special prizes are awarded to the top Golf Marathon fundraisers as an incentive for golfers to go above and beyond their fundraising goals.
"With the generous support of family and friends, we raised a total of $4,095 for Big Brothers Big Sisters of San Diego! It's an incredible feeling knowing we are making a difference and helping others!"
– Jeff Smith and son Braden Smith
2018 Golf Marathon Features: 
"Half-Marathon" Option Available 1-4PM
All inclusive golf at Sycuan Golf Resort from sunrise to sunset– play 18 or go for 100!
Tee Packages
Awards and dinner banquet
Special pricing on rooms and spa packages
Course contests including longest drive, closest to the pin and so much more!
Breakfast, lunch, dinner, drinks & course refreshments are all included
Over $10,000 in prize giveaways
Four Hole-in-One Prizes
Hundreds of children are waiting to be matched with a mentor in San Diego. By golfing or donating, you can help get these children off the wait-list. Your gift funds the recruitment, screening and training of qualified volunteers, followed by monthly support to ensure every match is safe and thriving.
For more information, contact Talia Hazard at (858) 536-4900 x205, or TaliaH@SDBigs.org.