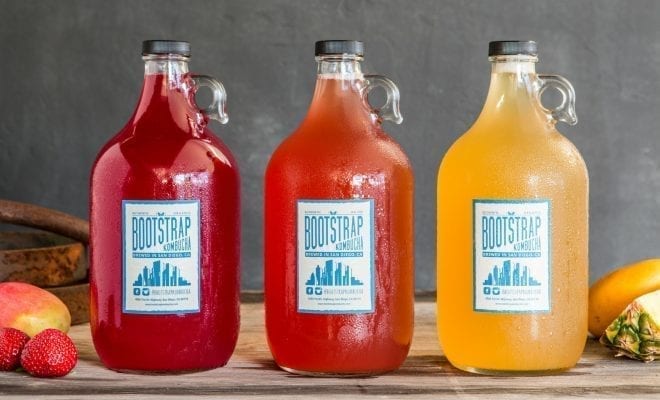 Drinking
Where to Get Your Kombucha Fix in San Diego
By
|
Kombucha has had its time to shine in the spotlight as of late. This curious fermented tea has become a favorite among the health and wellness crowd, boasting benefits like probiotics and antioxidants that help fight off free radicals. Kombucha bars are becoming the hottest destinations for enjoying a refreshing drink, and there are even some that offer 'hard' kombucha if you're trying to get the party started. Check out these awesome spots for your next kombucha indulgement.
This quaint little walk-up cafe serves up some of the best kombuchas in San Diego. They have a diverse range of flavors, so whether you're craving sweet, spicy, fresh, or nourishing, they've got you covered. They also let you taste test before settling on what you want, so don't be shy to try a few before! TapShack also offers cold brew coffee and a variety of sweet treats and baked goods.
Said to be perfect for any kombucha lover, whether you're a novice or expert. Babe Kombucha serves up inventive yet full-bodied flavors like Moroccan Mint or Passion Cherry. They offer customers a kombucha flight, giving you the chance to try out 5 different flavors for just $7.
To achieve a perfect balance of flavor, each batch of kombucha is brewed slowly and in small batches to capture the best of the natural and quality ingredients. Retaining the natural minerals found in the water using a special brewing process, Bootstrap Kombucha packs a healthy punch. They offer three varieties of kombucha: Black Tea Blend, Oak Aged Black Tea Blend, and Green Tea Blend. Each offers its own unique qualities, with a wide variety of flavors. Plus, no artificial flavors, extracts, or added sugar are used in their products so you know you're getting the best quality possible.
Hard Kombucha
JuneShine – North Park & Scripps Ranch
Opened just last year, JuneShine takes pride in being the world's first hard kombucha bar. The venue features a trendy, well-lit space with chic modern decor that makes it both comforting and lively to relax in. They have a wide variety of different hard kombuchas on tap, all revolving around an all-star lineup of various fruits and health-centric flavors. From Honey Ginger Lemon to Chili Mango, all 15+ flavors of their hard kombucha are brewed with organic ingredients and are completely gluten-free. Each clock in at a respectable 6% ABV too, so you know you'll be able to catch a nice buzz.
Boochcraft – Available all around San Diego
Boochcraft is the maker behind California's first high alcohol kombucha, exploding in popularity since releasing their first product. Their kombuchas are available in stores across San Diego county in 12 oz cans, as well as at various breweries on tap. Boochcraft offers flavors like Grapefruit Hibiscus Heather, a sweet yet biting experience with notes of floral hibiscus and citrus. Their Ginger Lime Rosehips is a spicy fresh ginger juice paired with lime juice and zesty rose hips making. They do not have a tasting room as of yet, but plans are in motion to open a brand new tasting facility in Del Mar sometime next year.
Barrel Republic – Pacific Beach, Carlsbad, Oceanside
One of the premiere pour-your-own spots in San Diego, Barrel Republic has an all-star selection of craft beers and wines, but they also offer hard kombucha on tap. At the Pacific Beach location, they offer a Blood Orange Mint Kombucha, brewed by JuneShine. The Carlsbad location has the Midnight Painkiller, a 6% ABV hard Kombucha that is wildly popular. In Oceanside, you can indulge in the wildly refreshing Watermelon Mint Chili hard Kombucha, clocking in at a respectable 7% ABV and brewed by Boochcraft.