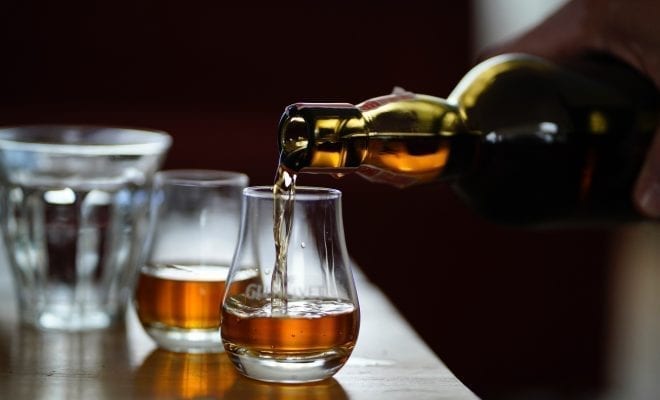 Photo from James at Wineandliquorprices.com
Drinking
Top Whiskey Under $50
By
|
If you have a love for this glorious drink, chances are you're always looking to try new ones. Check out these delicious whiskeys you've probably never had before. And the best part? They're all under $50.
Highland Park 12-Year Single Malt Scotch Whisky – $45
Highland Park has long been one of the greats when it comes to single malts, and this 12-year lives up to the reputation. Expect to get a nice modernity smokiness paired with just the right amount of sweetness thanks to a nice blend of honey and fruit.

Redbreast 12-Year Old Irish Whiskey – $47
Made by Midleton Distillery, Redbreast is made using both malted and unmalted barley, then is triple distilled before aging in a Sherry cask. This creates a wonderfully smooth pour, with a touch of smokiness with subtle tastes of cinnamon, white grape, and honey. Irish Whiskey with just the right amount of complexity.

Knob Creek Straight Rye Whiskey – $30
Knob Creek has made quite the name for itself when it comes to whiskey, and this Straight Rye is no exception. First appearing in 2012, this Straight Rye enters the ring with a full-bodied spicienessm along with a robust fruitful base complemented with vanilla and caramel notes.

Michter's US #1 Single Barrel Straight Rye Whiskey – $36
Michter's has a storied history in providing top-notch whiskey, and this Single Barrel Straight Rye is one of its finest. You will quickly be mesmerized by its rich orangish-brown color, and from the first sip, you'll be captivated by the pleasant peppery and sweet taste.

Laphroaig 10 Year Old Islay Single Malt Scotch Whisky – $39
Known for its particularly unique tasting whiskeys, Laphroaig Old Islay Single Malt is different, but in a wonderful way. You'll notice a distinct peaty taste, along with a husky smokiness that makes it best for the more advanced of whisky connoseoutis.