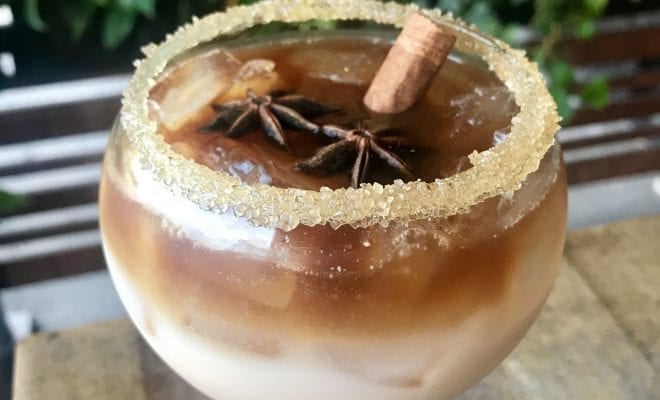 Drinking
Thirsty Thursday: Tajima's Drunken Pumpkin Cocktail
By
|
When you hear Tajima, the first thing that comes to mind is probably ramen. But did you know their Mercury location also offers delicious cocktails, including a rotating cocktail of the month?!
October's specialty cocktail, the Drunken Pumpkin, is one you're sure to love. The tasty blend of rum, pumpkin spice syrup, and lemon juice make this one cocktail you've got to try before the end of the month.
And if you can't make it in before Halloween, you can recreate this sip at home thanks to the below recipe:
Drunken Pumpkin
Courtesy of Tajima Mercury (4411 Mercury St, San Diego, CA 92111)
Serving Size: 1
Ingredients
1.5 oz Captain Morgan Spiced Rum (or any brand)
1 oz RumChata
1 oz pumpkin spice syrup
.5 oz almond extract
¼ oz fresh lemon juice
Splash of dark rum (Gosling's Black Seal works perfectly)
Optional: sprinkle of pumpkin spice
Garnish
1 – 2 star-anise cloves
1 – 2 cinnamon sticks
Sugar in the Raw (for rim)
Instructions
Combine all ingredients (in shaker) and shake until blended evenly
Rim a glass – a rounded rocks glass or brandy snifter are recommended, but any glass will do! – with Sugar in the Raw and add ice cubes
Strain ingredients into glass
Top with a splash of dark rum
Garnish with star-anise cloves and cinnamon sticks
Sprinkle with pumpkin spice for extra pumpkin flavoring
Enjoy!