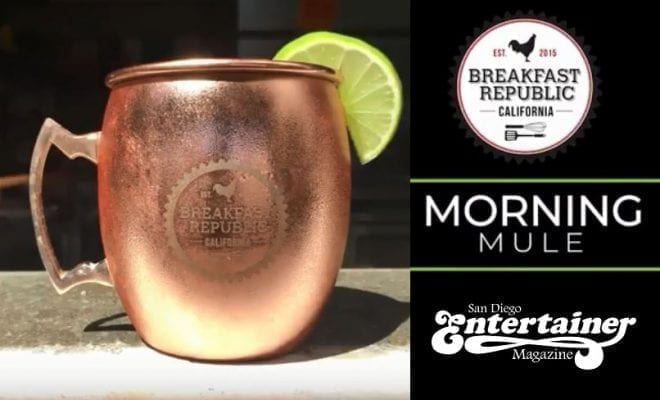 Drinking
Thirsty Thursday: Morning Moscow Mule…mmm
By
|
It's almost the weekend, and the San Diego Entertainer teamed up with Breakfast Republic to deliver you your guide to crafting the perfect mule. This Morning Mule is a twist on the classic Moscow Mule and is light and refreshing, perfect for the summer heat. With a few dashes cherry apple bitters, this copper mugged cocktail turns into a flavor frenzy – not overly sweet, and just the right amount of citrus to balance out this Breakfast Republic favorite. Move over mimosa, there's a new morning spritzer in town.
Quick History Lesson
The origin of the Moscow Mule is up for debate, as some say it started in Manhattan in 1941 when the first arrival of Jack Morgan's Cock 'n Bull was introduced to the United States from England. When combined with Smirnoff Vodka, lemon juice, ice and the iconic copper mug, the Moscow Mule was born.
Ever wonder why the copper mugs aren't copper on the inside?
The highly acidic drink can actually dissolve copper, so the inside of the mugs need to be lined with other metals, like nickel or stainless steel.
Watch our video to see how Heather makes Breakfast Republic's Morning Mule 
Check out the recipe below to make this delicious drink at home.