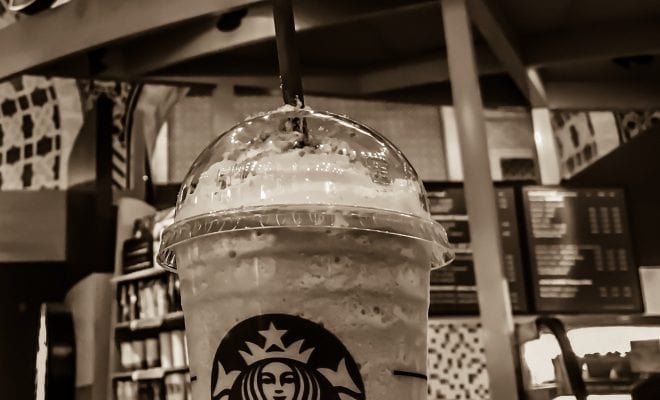 Drinking
Starbucks Midnight Mint Mocha vs S'mores Frappuccino
By
|
The summer sun is finally back, which means it's officially Frappuccino season at Starbucks. Choose from a variety of colorful and tasty Frappuccinos that will cool you down in the summer heat.  Are you going to be daring and try the new Midnight Mint Mocha Frappuccino or will you stick with your favorite S'more's Frap? Both of these blended drinks have very different tastes, but which taste do you crave? Starbucks is giving you choices this summer with a minty fresh blend or a chocolate s'more blend. You choose the craving, and Starbucks will do the rest!
The Midnight Mint Mocha Frappuccino will instantly send a tingling sensation to your taste buds, while cooling you down after a long day at the beach. This Frappuccino fits the color scheme of summer as well: vibrant and eye catching. This drink is a must-try if you have a craving for fresh and minty flavors. If you love chocolate and a minty taste, then you might be more of a Midnight Mint Mocha kind of customer. This minty blended treat has a consistent taste of mint in every sip. With dark chocolate mixed in
with the mint, the drink is a desert in a cup, along with a refreshing treat. The whip cream is topped with dark cocoa to finish off the minty taste with an everlasting flavor.
Let's not forget about the S'mores Frappuccino. This blended drink will have you thinking about summer bonfire's and dreaming of long summer nights. The marshmallow whip cream and chocolate sauce will send your taste buds into over drive. Topped off with graham cracker crumbs and more marshmallow whip cream, you can have a tasty summer treat whenever you want. This gooey treat will be your summer craving and is one of the most popular drinks at Starbucks. The taste resembles melted chocolate and hints of crunchy graham cracker with a subtle taste of marshmallow. You'll feel as if you are roasting marshmallows over an open fire, but in the comfort of your own home. Back for a limited time, you never know when this tasty drink will disappear.
So, which drink will be your summer choice? Will you fill your summer days with a refreshing mint blend
ed masterpiece? Or, will you fill it with a never ending campfire vibe with your favorite summer desert, but in a drink? Try something new and embrace the new Starbucks Frappuccino that will be your new favorite midnight snack. Or, embrace what you know and enjoy your drinkable s'more until it's gone! So in the end, which drink is better? Both drinks depend on what flavor quenches your cravings. If you prefer a refreshing taste with a kick of chocolate flavor, then the Midnight Mint Mocha Frappuccino is perfect for you. If you are stuck in the office and want to experience those warm summer days or nights, then create your own campfire fun at your desk with a S'mores Frappuccino. Enjoy your Starbucks and Frappuccino filled summer!