Drinking
It's National Margarita Day and the tequila is flowing
By
|
Feb. 22 is National Margarita Day because in America, we like to proclaim every day a holiday. And because a tequila shortage may be coming as agave prices soar (more on that below), there is no time like the present to enjoy a glass of everyone's favorite beverage – the margarita.
History of the Margarita
It's difficult to know exactly how this celebrated drink exactly got its name, but it seems that San Diego may have had a part to play. According to Wikipedia, one of the oldest stories about the invention of the margarita goes like this:
The margarita was invented in 1938 by Carlos "Danny" Herrera at his restaurant Rancho La Gloria, which was halfway between Tijuana and Rosarito, Mexico. It is claimed that the drink was created for customer Marjorie King, who was allergic to many spirits, but not to tequila. This story was told by bartender Albert Hernandez, who popularized the margarita in San Diego after 1947 at the La Plaza restaurant in La Jolla. It is unclear if Hernandez knew Herrera, but he is said to have visited Mexico often.
There are many other stories. One claims that the margarita was first mixed in Juárez, Mexico at Tommy's Place Bar on July 4, 1942 by Francisco "Pancho" Morales. Morales later left bartending in Mexico to become a US citizen, where he worked as a milkman for 25 years. Mexico's official news agency Notimex and many experts have said Morales has the strongest claim to having invented the margarita.
Agave Shortage
Reuters recently reported "a worsening shortage of agave caused by mounting demand for the liquor." Agave is a cactus used in production of tequila, and the suppliers of the crop just can't keep up. Due to the increased demand the price of agave tequilana "has risen six-fold in the past two years, squeezing smaller distillers' margins and leading to concerns that shortages could hit even the larger players," said the Reuters article. This means the price of your favorite bottle of tequila will very likely be going up. The article explains that new techniques are being utilized to produce more agave faster, but demand isn't likely to catch up for a number of years. The good news for us in San Diego, is that even with a large demand, we're still only a short distance away from the source. So for now, enjoy those margaritas and know that you're enjoying a beverage loved by many around the world.
Margarita Recipes to Try at Home
A basic margarita is a cocktail of tequila, triple sec and lime garnished with salt on the glass' rim. It is the most common tequila drink in the United States. Even if we don't know its exact origin, we can still enjoy this sweet and sour concoction. If you want to try your bar tending skills at home, we suggest going simple. Avoid the sweet and sour (which will make tomorrow morning easier).  When in doubt, opt for what is termed a "skinny" margarita – which really only means it uses fresh juice…
The Best Simple Margarita Recipe
3 oz tequila
2 oz Cointreau or triple sec
1 oz lime juice
Shake in a cocktail shaker with ice and serve in a glass rimmed with salt. Add a lime wedge for flair.
'Fix the Mix' Margarita
Ever wonder how to make that margarita mix from the store taste better? We've got a solution.
4 oz margarita mix
1 oz tequila (omit if using a mix with alcohol – or add more – up to you)
1 – 1 1/2 oz orange juice
*The recipe is not exact. Adjust to taste.
Catalina Margarita Recipe
1 1/2 oz 1800® Tequila
1 oz peach schnapps
1 oz Blue Curacao liqueur
4 oz sweet and sour mix
Shake with ice and strain into chilled cocktail or margarita glass.
San Diego's Best Margaritas
If you are looking for a bar or restaurant that can serve a great margarita, we have many options. Check out Casa Guadalajara in Old Town or Playa Grill & Margarita Bar in Mission Valley, just to name a few. If you're looking for a new twist on an old favorite, there are a few San Diego bars worth checking out.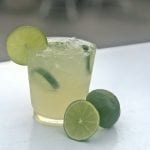 This libation is a mix of serrano chili infused tequila, cucumber, agave and lime.
This herb-infused variation on the classic utilizes El Jimador Blanco tequila, Cointreau, lime juice, rosemary-ginger simple syrup with a black salt garnish.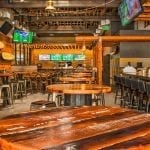 Enjoy this fun margarita with a li hing mui (salty dried plum) rim, served with El Jimador Tequila, Cointreau, lime juice and agave nectar.
The Trust Cocktail #2 is a play on a margarita, with equal parts lime juice, grapefruit juice and agave syrup, combined with a pop of jalapeno infused tequila. Find out how to make it yourself from Trust's own Juan Sanchez who was featured in SD Entertainer's Thirsty Thursday video segment recently.
Barley Mash's House Watermelon Margarita
Chris Cheng of barleymash showed us how to make their house margarita with Espolon Tequila Blanco, watermelon, lime juice, simple syrup and a Tajin rim. Find out how to make it, or get to Barleymash to try for yourself.