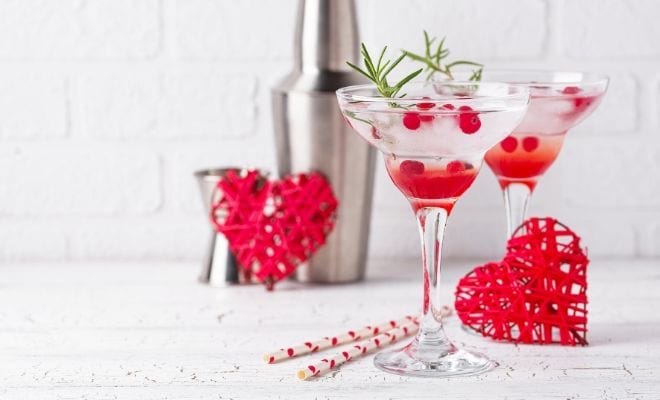 Drinking
5 of the Best Valentine's Day Cocktail Creations
By
|
Trying to plan the sweetest Valentine's Day dinner for your sweetheart or spice up your girls' night in? Once you've set your menu or planned your movie lineup, don't forget about the drinks. These cocktails won't just pair well with your steak or seafood—they'll also help you and your loved ones get in the spirit of the holiday. Grab your bartending tools—from scrumptious mules to marvelous martinis, we've got the best Valentine's Day cocktail creations for you to try!
Chocolate Martini
It doesn't get more "Valentine's Day" than a chocolate martini. It looks complicated, but its creation is quite simple. All you need to do is drizzle some chocolate syrup in your glasses and combine Baileys Irish Cream, chocolate liqueur, and some vodka in a shaker. Fill with ice and shake until thoroughly chilled. You can keep it classic or spice it up by transforming it into a raspberry chocolate martini. Simply opt for a raspberry-flavored vodka and add some raspberries for garnish!
Champagne Margarita
Next up is a fun little creation for you and your girlfriends. Give your favorite margarita a boost by adding in some delicious bubbly! Make a big batch for your friends by combining fresh lime juice, silver tequila, orange liqueur, and a whole bottle of champagne. It's the drink you've been looking for!
Love Potion Martini
Another martini makes the list—and why shouldn't it? Martinis are the drink of Valentine's Day! The Love Potion Martini—essentially a triple berry pomegranate martini—is just what you and your significant other need for this year's holiday. It's quite simple to make: all you need to do is combine pomegranate juice, strawberry vodka, and Chambord Black Raspberry Liqueur and add some strawberries for garnish. If you want to be extra-fancy, you can also drop one cube of dry ice into the glass. Just make sure you let it dissolve before you drink up.
Strawberry Moscow Mule
Use that strawberry vodka from the Love Potion Martini and make you and your loved one a scrumptious strawberry Moscow mule! It's the refreshing, simple drink you need for a romantic night in. Instead of muddling lime as you would for a traditional mule, you'll instead muddle some strawberries at the bottom of a mixing glass. Then, you can add more strawberry flavor with strawberry vodka, or you can keep it a bit more subdued with plain vodka. Add in some lime juice and shake well, then pour into some copper mugs and top with ginger beer.
Sherry Cobbler Spritz
Next on our list is a fun spritz. Perfect for a girls' night in or to pair with dinner with your significant other, this drink is a lovely mix of sweet, tart, and refreshing. For this drink, you'll want to muddle some raspberries and a few blackberries together in a shaker. Then, add some sherry, lemon juice, and a touch of simple syrup. Add ice and shake it all together. What results is a lovely beverage for you to enjoy!
Even though it's a holiday, drinking responsibly is still important. Don't drink and drive, and pay attention to how much liquor is in each drink. Every drink affects your body differently, so make sure to recognize how alcohol affects your body. Fall in love with healthy choices!