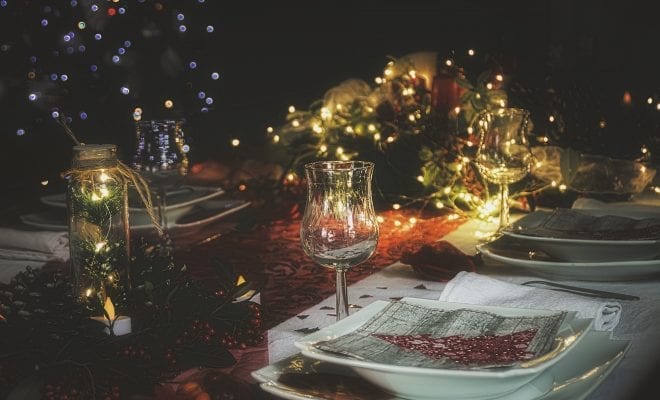 Dining
Where To Dine on Christmas Eve
By
|
The holidays are a wonderful time of year to spend with loved ones. While you'll likely be spending Christmas Day at home, the night before is a lovely time to go out for a meal. If you're looking for a stress-free Christmas Eve dinner with friends and family, fear not! San Diego has plenty of excellent restaurants open for you to dine at on Christmas Eve.
Serving the finest Prime beef available, Ruth's Chris is a superb choice for a quality holiday meal. The menu features an excellent selection of New Orleans-inspired appetizers, fine steak, fresh seafood, and a warm and inviting atmosphere perfect for Christmas Eve.
Switch it up this Christmas Eve and treat yourself to a gourmet Chinese dinner from Steamy Piggy. Their dishes are prepared using only the freshest ingredients available, so whether you're in the mood for hot, cold, spicy, or sweet – they got you covered. 
Enjoy a casual Christmas Eve meal prepared by Chef Vincent Viale featuring an eclectic mix of French classics with a modern accent. Dive into French-inspired dishes as you explore new flavors accompanied by a curated wine list or a vibrant cocktail crafted with locally sourced ingredients. 
This fine French dining establishment will be celebrating Christmas Eve with a festive three-course menu from 4-8 pm for $68 per person. Bleu Boheme is dedicated to bringing its customers the opportunity to explore the culinary flavors of France's past generations, with each bite providing happiness and wonder. 
Spend Christmas Eve at International Smoke in Del Mar, where they will be offering their regular menu along with a special 3 Course Tasting /menu for $75 per person. Expect delicious smoked and grilled foods like wood-fired steaks, seafood, and ribs.
Cesarina will be serving a condensed version of their core menu in both a tasting and A la Carte options. This family-run restaurant is known for its meticulous attention to details and fresh ingredients, all culminating in a warm and vibrant atmosphere perfect for the holidays. Plus, they have plenty of vegan and vegetarian Italian options that taste just like the real thing.
For Christmas Eve, The Marine Room will be serving specials on their exceptional Norweigan Halibut and Northern Territory Wagyu Beef Ribeye. Paired with the marvelous meal are stunning views of the La Jolla shores, making this Christmas Eve meal truly special.
This trendy downtown spot serving coastal cuisine will be open on Christmas Eve for their normal hours, so head over for a relaxed holiday meal featuring a diverse range of farm and ocean dishes that will blow your mind. 
Celebrate Christmas Eve with a specially crafted 3-course prix fixe menu starting at $85. Splurge a bit and order one of their wine pairings to go along with your meal for a marvelous time.
It's an Italian Christmas Eve this year at 264 Fresco, and you're most definitely invited. Come out to celebrate with a $49 prix fixe menu, along with A la Carte selections that will have you leaving perfectly satisfied.