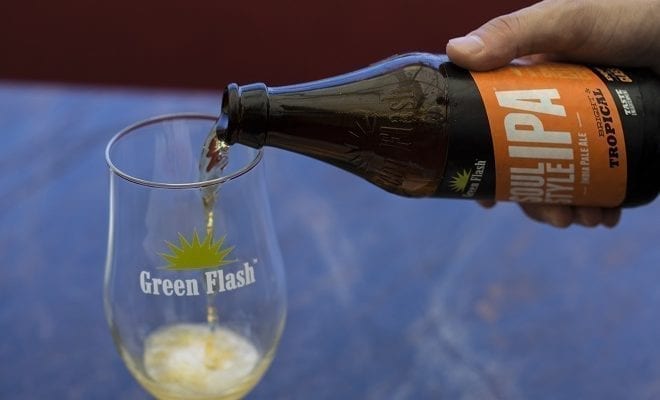 Courtesy of Green Flash
Dining
Two San Diego Brands Join Forces for Beer Dinner Series
By
|
Two like-minded San Diego staples – Sammy's Woodfired Pizza & Green Flash Brewing – are coming together for a limited, four-date event series where you can enjoy an evening that is equally educational and delicious. Sammy's Woodfired Pizza & Grill's Green Flash Dinner Series begins Wednesday, August 29th at the restaurant's San Marcos location (121 S Las Posas Rd), and will be hosted by Sammy's Corporate Executive Chef Alfie Szeprethy and Green Flash's Director of Beer Education, Dave Adams.
Chef Alfie's promising career began upon his graduation from The Art Institute of California, San Diego, and in the last decade he has risen from a young prep cook to overseeing back-of-house operations for 15 locations of Sammy's Woodfired Pizza & Grill across Southern California and Nevada. Hungarian-born Chef Alfie combines his passion for comfort food with his experience in high-end dining to create a robust menu of memorable, global cuisine for Sammy's.
As Director of Beer Education and Certified Cicerone® at Green Flash, Dave is responsible for running the brewery's Tasting Room and leads educational beer events in the brewery and beyond. Dave began working in the industry in 2006 and joined Green Flash in 2011. A San Diego native, Dave serves as a resource for internal & external education, ensuring that the craft beer scene remains approachable and entertaining.
Together, Chef Alfie and Dave have created a five-course, paired menu of food and brews. With Alfie and Dave serving as culinary tour guides, diners will spend 90 minutes in foodie heaven. As Chef Alfie's team serves each course, Dave will provide knowledge of how each beer expertly pairs with the dish to create a happy marriage of flavors. Dinner will start with fresh-baked pizza knots brushed with spicy chili oil and smoked paprika, paired with Sea to Sea a light lager with just a touch of sweet malt and fruity hops. Other pairings include sweet chili-glazed chicken wings paired with West Coast IPA, an assertive grapefruit-forward hoppy ale with dry, woodsy hop notes, as well as a specially-made Passion Fruit Kicker beer granita to finish the night.
The ticketed event takes place from 6:30 – 8:00 pm at four locations on four dates. Tickets are $30 each and can be purchased at here.
August 29th | Sammy's San Marcos
September 5th | Sammy's Del Mar
September 12th | Sammy's Mission Valley
September 19th | Sammy's Scripps Ranch