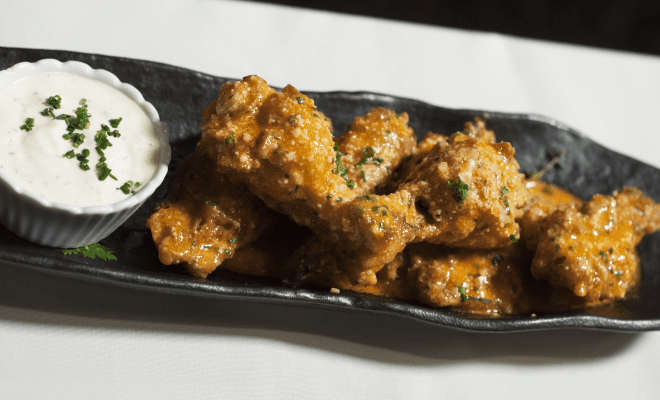 Dining
San Diego Chefs: Chicken Wings from Bellamy's Restaurant
By
|
The San Diego Entertainer is back and featuring some of the best food that San Diego has to offer. This week, we return to Bellamy's Restaurant in Escondido once again to see what Executive Chef Jonathan Freyberg is cooking up for us today.
This time around, we are learning how to make one of Bellamy's sauciest dishes, the Chicken Wings tossed with Red Pepper Sauce and served with house made Ranch Dressing. Watch the video below!
Chef Freyberg begins the finger licking wings by making the red pepper base. The red pepper sauce is made using chopped shallots, chopped garlic and chopped red pepper. Chef Freyberg starts out by sweating the shallots and garlic in a hot pan, followed by a splash of white wine.
He then adds in the chopped red pepper, a sprig of fresh thyme, chicken broth, and seasoning and covers and cooks for approximately 30 minutes.
"After 30 minutes, we are going to go ahead and put it in a blender and blend, with the addition of a little white wine vinegar. After that's blended, we have our red pepper base!"
We then watch as the chef carefully places the poached chicken wings into a fryer. Once the wings are finished cooking, it's time to create the sauce for the dish.
He starts with the red pepper base, followed by the restaurants trusty Beurre Blanc.
"The Buerre Blanc is a white wine and butter sauce that we make with just a little bit of shallots and lemon"
He then adds grated Parmesan cheese, 2 teaspoons of chopped garlic, and chives. The wings get added and tossed into the sauce mixture and we move on to plating this mouth watering dish.
With a sprig of parsley, a side of house made ranch, a dash of Parmesan and a lot of extra sauce, these wings are ready to go!
Enjoy this tasty dish on a Friday night out on the town, or enjoy these wings for Football Sunday. No matter how you enjoy them, these wings will always be a hit.
Stay tuned for more Chef Specials as the Entertainer continues to unravel the world of food and beverage of San Diego.
Bellamy's is located at 417 W Grand Ave, Escondido, CA.