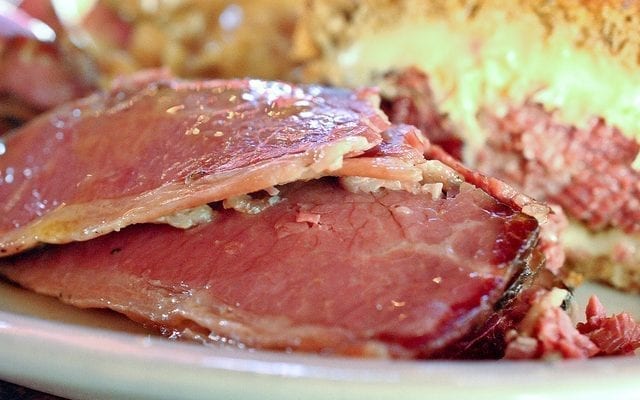 Dining
Corned Beef and Cabbage and other St. Patrick's Day Recipes
By
|
With St. Patrick's Day right around the corner, one of the easiest ways you can add some festive touches to your day is with food. Yes, you can wear green, sport the shamrocks, or drink green beer, but what is really authentic?
Although there is some debate about the authenticity of Corned Beef and Cabbage as a traditional Irish dish, it is a staple in Irish cuisine, and a great way to join in on an Irish tradition. As the Entertainer reported last year in our St. Patty's Day coverage, Corned Beef and Cabbage can be very time consuming to make. Most recipes require a crockpot and a good amount of time.
There are plenty of places in San Diego that offer corned beef on the menu, if you're unwilling to try cooking it yourself. Some of the best locations to try are:
The Field (544 5th Ave, Gaslamp)
Rosie OGrady's (3402 Adams Ave, San Diego, CA 92116)
Hooley's Irish Pub (5500 Grossmont Center Dr, La Mesa)
Callahan's Pub (8111 Mira Mesa Boulevard, Mira Mesa)
If you are looking to attempt this recipe on your own, our pick is below. Scroll down to find more recipes, including Corned Beef Hash and links to Irish Potato Soup and Irish Soda Bread recipes.
Corned Beef and Cabbage Recipe
Ingredients
1 medium onion, cut into wedges
10 small red potatoes, cut large potatoes into pieces so they cook evenly
1 pound carrots, cut into 3″ pieces
1/4 pound diced celery, approximately 2 stalks
3 cups water or more to cover
3 garlic cloves, minced
1 bay leaf
2 tablespoons sugar
2 tablespoons cider vinegar
1 teaspoon peppercorns (whole)
1 (3 pound) corned beef brisket with spice packet
1 large head cabbage, cut into small wedges
Directions
Place the onion, potatoes, carrots and celery in a 5-qt. slow cooker. Combine water, garlic, bay leaf, sugar, vinegar, pepper and contents of spice packet; pour over vegetables. Top with brisket and cabbage. Cover and cook on low for 8-9 hours or until meat and vegetables are tender. Remove bay leaf before serving.
To serve, slice meat across the grain. Serve with vegetables along side, topped with as much broth as you like.
Did you know that the carrots are supposed to be only for a garnish? Catholic Irishmen supposedly are reminded of Orangemen, people they hate (according to food.com). If you wish to insult a Catholic Irishmen, put a large bowl of carrots on the table.
The day after St. Patrick's Day, hope there are left overs for Corned Beef Hash. It's a delicious way to use up those left overs, if there are any.
Corned Beef Hash
Ingredients
3 tablespoons butter
1 lb potatoes, cooked, peeled, and cut into 1/2-inch cubes (use thawed frozen potatoes to speed process)
2 medium-size yellow onions, chopped
1 red bell pepper, chopped
8 ounces cooked corned beef, cut into 1/2-inch cubes (see above)
2 Tablespoons chopped parsley
2 cloves garlic, minced
1/2 teaspoon chopped fresh thyme
1/2 teaspoon chopped fresh oregano
1/4 teaspoon freshly ground black pepper
4 eggs
Melt butter in a 12-inch skillet set over medium heat. Add potatoes, bell pepper, onions and cook until it begins to brown (8 to 10 minutes). Add garlic, corned beef, thyme, oregano and black pepper to the skillet and stir to combine. Once combined, spread the hash evenly over the pan and firmly press down with a spatula. Place a heavy lid, heatproof plate or second pan directly atop the hash and allow to cook until browned, approximately 10 minutes. After 10 minutes stir mixture, press down again, top with the lid and allow to cook another 8 to 10 minutes, or until browned.
Using the back of a spoon, make four deep indentations in the hash. break eggs into the indentations. Cover the skillet and cook on medium until the eggs are just set, about 6 minutes. Cut the hash into wedges, garnish with chopped parsley, and serve immediately.