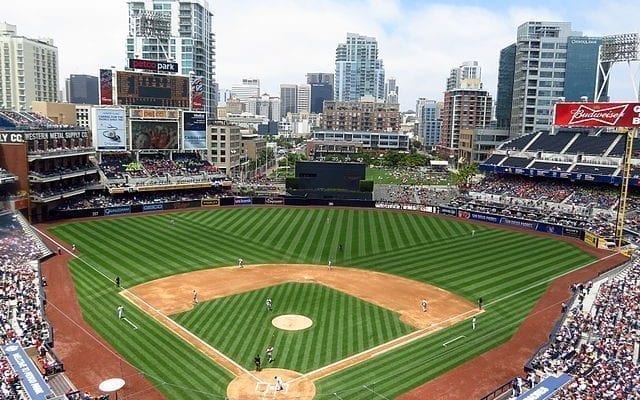 Petco Park by Red Legs Fan via CC 2.0
Dining
2018 Petco Park Food Guide
By
|
Baseball season is in full swing, and San Diegans are flocking to Petco Park to get their baseball fix. While the Padres may not be much to watch this season, lucky for us, Petco Park is home to some of the best ballpark food in the country which helps to make the trip to the park memorable, even without a win. Because, what ball game is complete without some tasty treats? Here is your guide to the best food and drink options available at Petco Park.
Cutwater Spirits
This San Diego-based distillery opened up a new location in Petco Park, called the Cutwater Spirits Rum Bar. Located on the Field Level at section 101, they will be serving up their special rum-based cocktails, including the amazing Bali Hai Tiki Gold Rum Mai Tai, perfect for a warm, sunny day.
Phil's BBQ
All you BBQ connoisseurs must check out Phil's BBQ, known for their wide variety of meats and smoky goodness. They just opened a new location on the rooftop of the Western Metal Supply Co. building, where they will be serving up customer favorites like their Broham sandwiches and fries.
Blue Water Seafood Market & Grill
New this season, this seafood spot is operating two locations inside the stadium. The outlet on the Field Level at section 117 will be serving fresh fish tacos and sandwiches, while the second location on the Toyota Terrace level at section 220, will offer an extended menu that includes clam chowder, seafood plates, sashimi, and poke.
Carnitas' Snack Shack
Mentioned by numerous publications for being one of the best places to get tacos in San Diego, you won't want to miss out on grabbing a few during your time at Petco Park. The eatery features their signature pork-centric dishes, which includes the Triple Threat sandwich, Carnitas Tacos, and their Pork Belly App with a sweet-spicy glaze.
Pizza Port
This local brewery and pizza eatery will be serving some of the best slices this side of the Mississippi, along with their signature garlic beer buddies, which are perfectly dunkable in ranch and marinara sauce. Grab one of their craft beers, and you're in for a real flavor party.
Buona Forchetta
A new addition to Petco, this Italian eatery will be serving a new style of Roman pizza, along with a full gelato bar and a wide selection of wines from Italy and California. A perfect choice if you're looking to class it up a bit and dine in style.
Jack & Craft
The newest desert location at Petco will offer a diverse selection of sweet treats, along with their signature caramel corn. Customers will also be able to choose from a rotating menu of local San Diego craft beer from popular breweries like Ballast Point, Iron First, AleSmith, and many more.
Friar Frank at Budweiser Ballpark Eats
This iconic, all-beef, nine-inch ballpark favorite hot dog has been reimagined by Petco Park Executive Chef Carlos Vargas, with a several new options for you to enjoy. These include the Bacon Wrapped Dog, the Caprese Turkey Dog, the Chili Cheese Dog, and the Lil' Slugger Dog.
There are tons of other food options to choose from, including The Baked Bear (ice cream sandwiches), Board and Brew (sandwiches), Hodad's (burgers), Lucha Libre (taco shop), Seaside Market (home of "Cardiff Crack" tritip) and Yogurtland Express (frozen yogurt). Of course, there's always peanuts and crackerjacks if you want to go the traditional route.