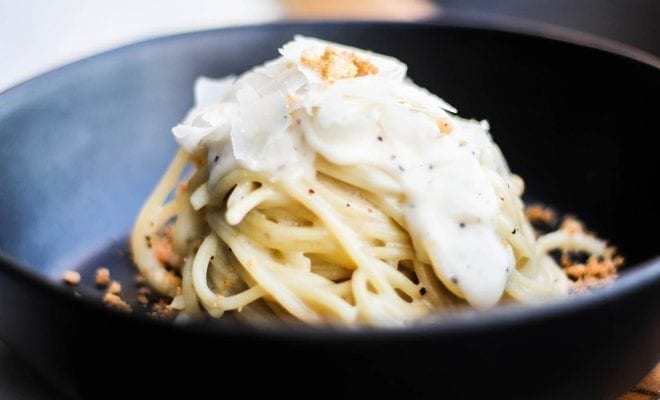 Dining
Welcome to Maestoso – Join the Cult
By
|
The place is crowded – but in a perfectly comforting kind of way. We find two seats at the bar looking over pasta-producing shamans. Naturally, a bottle of chianti is in order, so we point and pick, landing on the Torre a Cona. A chef treks over and uncorks our vessel of vino while yelling something in Italian over his shoulder. He pours, we sip, we smile. Welcome to Maestoso.
Nestled in an unassuming parking lot in Hillcrest, this magnificent nook has changed the game in the service industry. Gone are the days of servers and middlemen when you walk through the doors – chefs take care of you. The guys that know their shit.
A chef pulls a cart through the dining room stacked with striking intricacies from filet carpaccio bathing in a sexy balsamic reduction to a ripe caprese salad. What to get? It's quite a thrilling experience, actually. The silent hunter in me wants to grab everything before the next guy gets it. Because that's it. Once it's gone, it's gone.
Luckily the menu is painted with pure perfection – so you got options. Puttanesca made with marinara lathered in olive tapenade, garlic, capers and pepperoncino. Beef filet served on a 40-month aged parmesan cheese risotto with Italian red wine reduction and crispy parmesan. Oh God, yes. Ultimately, I go for the cacio e pepe. Simple. Classic. Perfect. The pasta is firm to the bite and smothered in everything mom raised you love. Salt, butter, black pepper, parmesan and pecorino. I'm in heaven. My better half is apparently in the mood for a little pizza action, so he orders the porcini, salsiccia and tarufo la pinsa. In layman's terms – a pizza immersed in pure merriment. Mozzarella, truffle cream, porcini mushrooms, Italian sausage and freshly shaved truffles. Dave Matthew's hit single 'Crashed into Me' dances through my mind with each and every bite.
The joint is packed. But owner and exec chef Marco Maestoso takes time to kneel by our table and shoot the shit with us about the everchanging restaurant industry and the recent wage increases haunting restaurateurs. He also nods over to pastry chef and James Beard Award finalist author, Jason Licker, to swing by and join our conversation. Chef Licker brings desserts. And damn – are they delicious. Coffee and passion fruit mousse over a chocolate crumble and an apple miso, which is caramelized and dangerously good.
We polish off the rest of our wine and hug these guys as we exit stage left. This place is romantic as hell and hits every mark on your palate. There's passion here. So get there.
maestoso.com
1040 University Ave ste. B101, San Diego, CA 92103.