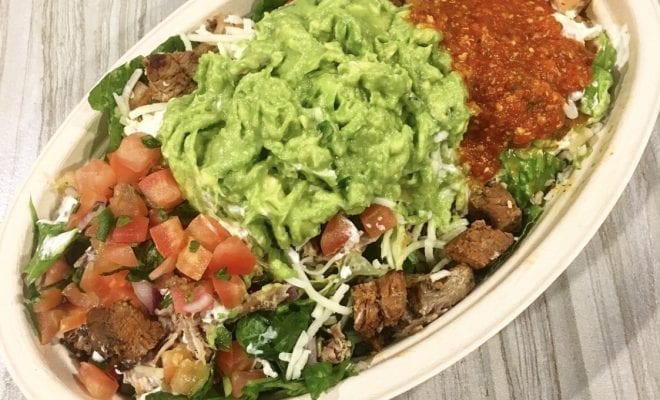 Dining
How-To Make Your Own Chipotle Style Bowl
By
|
We've all craved a delicious Chipotle style bowl at one time or another. There's something about the way all the ingredients work together, that make it that highly delectable meal we can't get enough of. Despite its delicious, and addictive qualities, it can become quite expensive if you continue going there for lunch or dinner (or breakfast, we don't judge). So, to save you money, and fulfill those insatiable Chipotle cravings, here is how you can create your very own Chipotle meal at home.
First you're going to need the following ingredients:
For the Chicken:
1 tablespoon vegetable oil
2 chipotle peppers in adobo, finely chopped
1 teaspoon garlic powder
1 teaspoon ground cumin
1/2 teaspoon dried oregano
1/2 teaspoon black pepper
4 boneless, skinless chicken thighs (or 3 boneless, skinless chicken breasts)
To cook the chicken, you'll want to start by combining the vegetable oil, peppers, garlic, powder, cumin, dried oregano, and black pepper into a small bowl. Make sure you stir it well to properly combine everything. Next, place the chicken in a large plastic bag with the marinade, and mix it well with the prepared marinade. You'll want to let the chicken marinade for at least an hour. Once finished, heat your grill to about 400 degrees Fahrenheit, and place chicken onto grill. Cook each side for about 5-6 minutes, the chop the chicken into small bite-sized pieces.
For the Rice:
1 teaspoon vegetable oil
1 cup white basmati rice
2 cups water
1 lime
2 tablespoons freshly chopped cilantro
kosher salt to taste
To cook the rice, you first want to heat the oil over a medium flame until hot. Using a heavy saucepan works best for the this part. Once hot, add the rice and lime juice, and sauté it until it reaches a nice golden brown. After reaching a golden brown, add your water, then bring the rice to a boil. To make sure the rice is nice and tender, cover and reduce the heat to low, and cook it until the water has been absorbed. Once done, add in your chopped cilantro, and fluff with a fork to ensure even spread throughout the rice.
Assembly
1 cup pinto or black beans (warmed)
1 cup charred corn (warmed)
1 cup guacamole
1 cup pico de gallo salsa
1/2 – 3/4 cup finely shredded monterey jack cheese
Once you have completed the steps above, you'll want to add your toppings and assemble the burrito bowl. Scoop out an even serving of rice and chicken, then top with your pinto beans, corn, guacamole, pico de gallo, and cheese. To add a tad bit of seasoning, sprinkle some salt and pepper on that top for good measure. The amount of ingredients specified will make about 4 servings of these burrito bowls, so it's a great way to introduce some variety into your lunch or dinners.
With this homemade recipe to bring you Chipotle to your home, you'll become the star at work that has that delicious meal that everyone is talking about. So save some money, and brush up on your cooking skills, because this meal is wickedly easy to make, yet too delicious to not ever give it a try.