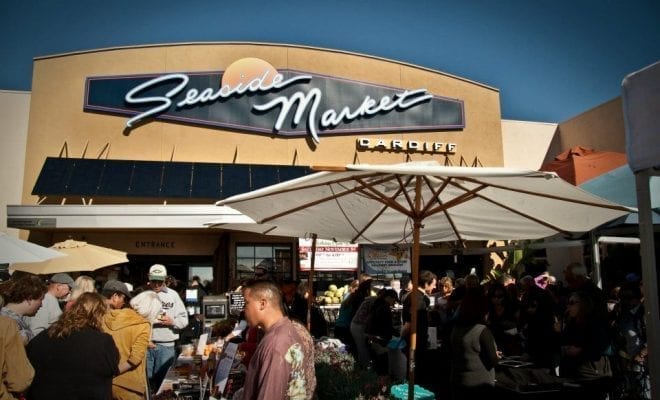 Photo from Seaside Market Facebook
Dining
Cardiff Seaside Market's "Cardiff Crack"
By
|
Visit the beach community Cardiff-by-the-Sea and you might get addicted to crack. Cardiff Crack, that is. In-the-know junkies so dubbed the Burgundy Pepper Tri-Tip from Cardiff Seaside Market at some point since 1990, when the marinated masterpiece first became available.
The Burgundy Pepper Tri Tip is a delicious USDA Choice tri tip that has been trimmed, marinated and infused with their one-of-a-kind Burgundy Pepper marinade. The result is a tri tip that is incomparably flavorful and tender. Be warned: taking a bite of the tender cut of meat fresh off your grill has been known to lead to an adventure so rich, juicy, and peppery you'll be hard-pressed to satisfy yourself with a single serving.
"It's our hottest selling item by far," said Bob Byrne, the meat department manager at Cardiff Seaside Market. "We've got people who come all the way from Orange County to buy it."
"It's true," said Dan Mezich, a Cardiff local hooked to the tender cut by his own admission. "I went in there in the late '90s and they told me this was the best Tri-Tip around." Like many a sampler, the 43-year-old contractor first stumbled upon the "crack" at Cardiff Seaside Market by chance.
Tri-Tip is a boneless cut of beef taken from the bottom sirloin, or lower part of the cow's ribs. It gets its name from the triangular shape. According to Byrne, the meat department can sell out of 600 to 700 pounds of Burgundy Pepper Tri-Tip on a busy holiday weekend alone. "On Memorial Day, it was crazy," he added. Back in 2009 the tri tip was $8.99 per pound. Today, you can order the tender piece of meat online for roughly $12 per pound. Meat lovers everywhere have shelled out a pretty penny to stock their barbeque feasts. And you can to. Click here to order.
A cut particularly tender to begin with, the seasonings added by Cardiff Seaside Market tenderize it to new heights. When asked to state the secret behind the local sensation, Byrne explained, "The key is the marinade we use and the process. We marinade it in a vacuum tumble machine, put it in plastic containers. The air gets pumped out and spins so the marinade can really absorb." About an hour later, the "crack" is ready for the dealing. And the answer is "no," the meat manager would not reveal exactly what ingredients get smothered into the meat.
Upon trying the Burgundy Pepper Tri-Tip for the very first time, your reaction might be similar to that of Carmel Valley resident Rachel Leigh. One evening in Carmel Valley, she finally tasted the famed meat marvel for herself (full disclosure: my husband and I were present and already suffer from Cardiff Crack addiction).
"Oh my gosh, that is good!" she gushed with a mouthful, proclaiming, "As a woman who knows her meat and grew up on a ranch in Texas, I am definitely going to go and get this."
Ladies and gentlemen, gas up your grills! Crack craze, meat madness, whatever you want to call it, Burgundy Pepper Tri-Tip really is worth the trip to Cardiff.
Want to know how to best prepare the delicious steak? Zach, from Seaside Market's Butcher Department walks you through how to grill the delicious cut.
Don't want to prep it all yourself? Head over to Cardiff Seaside Market daily for prepared dishes that will make your mouth water. From burritos and bowls to Cardiff Crack Sandwiches, Bahn Mis, Cubanos and Reubens, you'll not leave this place hungry.
Cardiff Seaside Market
2087 San Elijo Avenue
Cardiff-by-the-Sea
http://seasidemarket.com/
Hours
Open daily from 7:30 am – 10:00 pm.