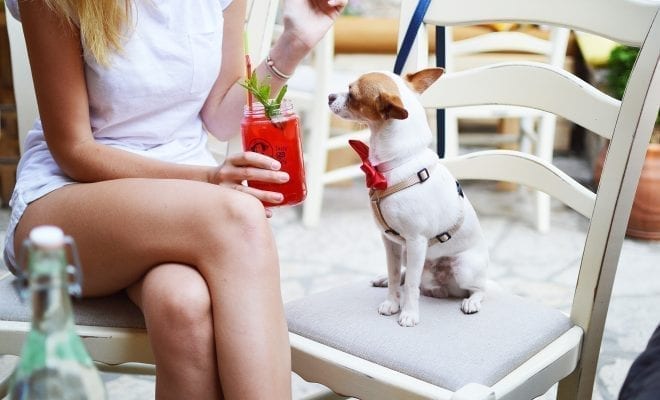 Dining
Al Fresco Dining: Dog-Friendly Patios
By
|
It's always heartbreaking leaving your pup at home when going out, they deserve to have a fun night out too! Thankfully, San Diego is home to plenty of dog-friendly restaurants that welcome pups of all kinds. Bring along your canine companion to any of the exceptional restaurants.
Great food, drinks, and people. Is there anything more you need? Well yes, bringing your dog along would be the icing on the cake. Common Theory has all of this and more. With 30+ rotating craft beers, a simplified but refined menu, and a cozy atmosphere, Common Theory is a great place to enjoy a meal along with your pup.
You're not going to find a heartier meal in San Diego than what you'll have at Working Class. Appealing to those who want a good homestyle meal, Working Class has an astounding beer selection and diner-style food. Enjoy your meal on the open-air patio and bring your dog along. Working Class even offers a 'Puppy Menu' with several different delectable meals for your dog. Treat yourself and your pupper.
A laid-back atmosphere and an excellent selection of burgers make Station Tavern an awesome option for a meal out. Plus, Station Tavern has a fairly expansive patio with plenty of room for small and large dogs. This large backyard-inspired patio is all communal, with picnic-table-style dining and a kid-friendly area.
The Patio has become one of the most quintessential neighborhood eateries in Mission Hills, serving contemporary American cuisine. Catch a weekend brunch with bottomless mimosas, a fine dining late night experience, or a nice lunch in the sun on the pet-friendly outdoor patio. The menu features sustainably sourced offerings, with a wide selection of craft cocktails, craft beers, and fine artisan cheeses.
In step the beach-inspired vibe of its location. Daybreak Island Grill incorporates the five distinct styles of Hawaiian cuisine. Enjoy a unique menu offering exotic flavors with a selection like a Hawaiian Breakfast Plate, Maui Wowie Pancakes, and Kalua Pork. Enjoy a lovely meal here along with its incredible views, and feel free to bring along your pup, as Daybreak has always been dog-friendly!
Come out to the gorgeous San Diego Bay and enjoy some sophisticated seafood caught daily. Sally's Fish House offers some of the best seafood dinings in all of San Diego, including fresh sushi, fish, and crab. You can also check out their steaks and chicken, all raised from sustainably raised sources. Feel free to bring along your dog, and get them a treat like a Frozen Pawpsicles or Sally's Famous Pancakes while dining on the spacious outdoor patio.