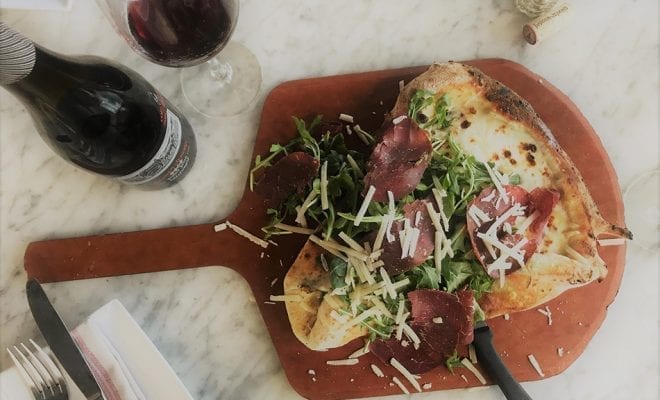 Buona Forchetta
Dining
A Tour of San Diego's Best Wood Fired Pizza
By
|
Whittling My Way Through Wood-Fired Pies
Cheese. Dough. Sauce. Meat. More Cheese. Oh yes, we're talking pizza pies, people, and San Diego boasts some damn good pizzerias. Whether you're looking for a crispy thin crust to bite into or if you prefer to shred your teeth through a softer dough, tasty pies are all over this town. There are a few obvious staples like Filippis Pizza Grotto, which offers an old-school, classic pie with globs of cheese and sauce (no complaints here), Bronx Pizza for a quick and dirty slice of thin crust, or Pizzeria Luigi in the G.H., where you can enjoy a pie whilst checking out the lineup at Casbah – all in one sitting. Oh, and didn't Guy Feri eat there back when frosted tips and boy bands were cool? Anyway, these are all good choices. But I spent two weeks dialing in on a few wood-fired joints. Here's what I've got:
This craft beer bottle shop anchored into Bay Park back in 2015, but owner Nate Ladendorf recently got the genius idea to build out a wood-fired pizza kitchen to serve the people, and the people approve. Now 'a place for pints and pies,' they crank out quite the variety: from classic pies to pizzas with a locally-infused twist. Biting into the dough is akin to what I imagine pinching the cheeks of cherubs would feel like: soft and warm. Probably not the best analogy, but the dough is damn good and so are cherubs, so there you go.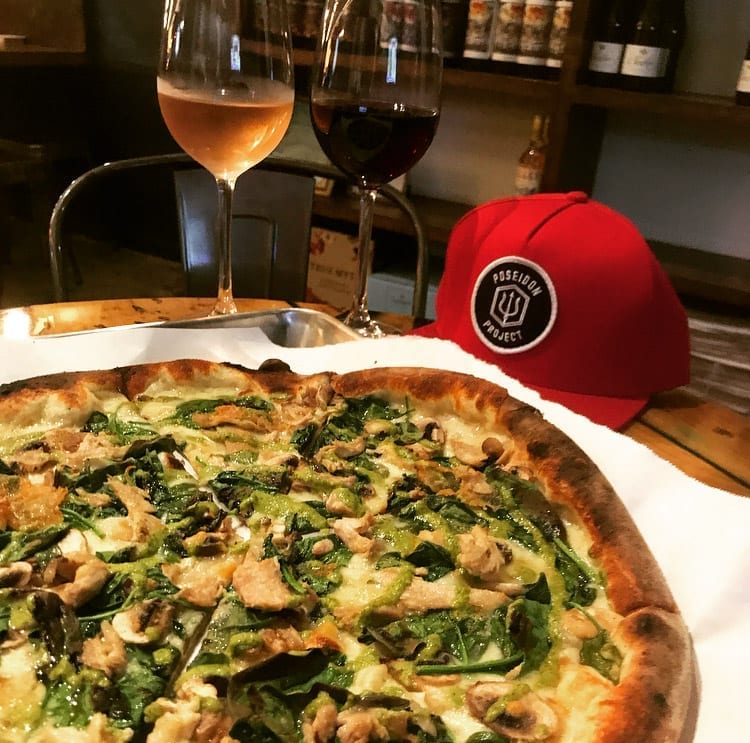 Anyway, back to the pies. Try the Green Chile Chicken, made with mozzarella, chicken, spinach, mushrooms, garlic and topped with a house made green chile garlic sauce. This baby brings it home. The garlic is there, but not overpowering. The chicken is brought over from the neighborhood butcher shop, Siesel's Meats – so you know it's quality meat. Five stars. Pizza Chef Jon Larson knows what he's doing, and he's doing it well. Keep up the good work, Poseidon Project.
Added bonuses: Usually a cute dog is around for you to pet, a near-naked mermaid mural provides art during your meal, cool swag is available for purchase.
IG: @poseidonproject
A trifecta of warm ambiance, excellent service and fantastic pies make this spot a staple to enjoy among good friends or family. My lunch date and I strolled in on a Saturday afternoon. One of the best parts about adulting is being able to order a pizza and bottle of wine in the middle of the day – no permission slip necessary. Buona Forchetta is my kind of place to do just that.
Vittorio took us under his Italian wing and guided us through the menu. A bottle of Lander-Jenkins 2016 Pinot Noir was the chosen appetizer and the Jove gourmet pizza was our main. If you aren't religious but have a sudden hankering to be, skip the Peyote trip in the dessert and head to South Park to eat pizza instead. You'll find God after sinking your teeth into the Jove. Burrata, bresaola, arugula, shaved parmesan and more burrata are tucked and layered between a warm dough with charred edges. Was it a calzone? Was it a pie? A mixture between two worlds, this divine dish is one for the books. You're hit with creaminess from the cheese, a punch of salt from the dry aged beef and bitterness from a fist full of arugula piled on top. The oven is a sanctuary for awesomeness. It was handmade in Naples to create their fantastic Neapolitan-style pizzas and named Sofia after the owner's daughter. How sweet.
Added bonuses: Located in the eclectic neighborhood of South Park, possibility of picking up Italian lingo by listening closely to the staff yell at each other across the patio, a consistently packed house makes you feel like you're surrounded by friends.
OK, La Mesa. I gave you a shot and you captured a big slice of my tiny heart with Farmer's Table. This neighborhood eatery bangs out wood-fired pies fit for Queen Margarita herself. With an imported Stefano Ferrara pizza oven from Napoli and innovative pizza chefs making dreams happen, you can't go wrong. You have to give it to these guys for the décor. It looks like John Deere and Ernest Hemmingway got together to create this truly unique space, and somehow it works. Literary favorites are tucked away in bookshelves, while the coastal and airy space houses a giant tractor and farm tools from the 1940's. You will want to eat pizza here. You will also want to plant something when you get home.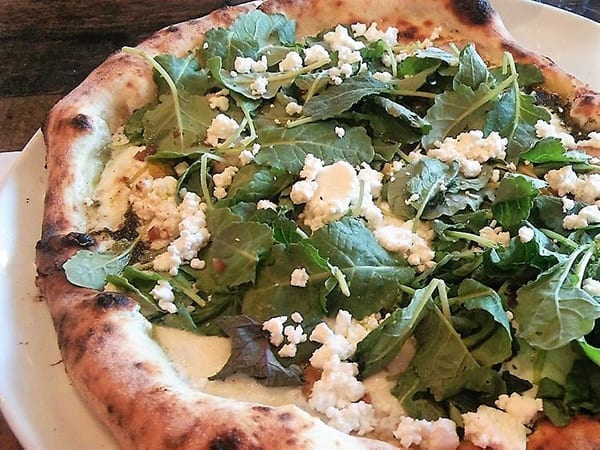 One look at the menu and I felt like Meryl Streep from Sophie's Choice when deciding between the Black Truffle or Pork Belly pizza. Pork Belly it was – and boy, was I happy. I'm a glutton for anything with pesto, and well, anything with pork belly. The best of both flavors swirl together alongside local baby kale, mozzarella and goat cheese. They float atop a perfectly ashy and doughy crust, with just enough char on the sides to pack a punch. As I mentioned earlier I'm an adult (slash borderline alcoholic), so I washed this all down with a few glasses of Right Hand Man Syrah from the Central Coast. I'm no somm, but holy mother – this was a combo not to be forgotten.
Added bonuses: Many opportunities for an epic Instagram shot, you can feel like a farmer for a day, you won't feel like a creep watching the pizza chefs create magic – as this is encouraged with the open kitchen.
I proudly added a notch to the 'ol belt loop on my quest to find my top three wood-fired pizzas. Now I'm on a quest to hike it all off. See you at Cowles.