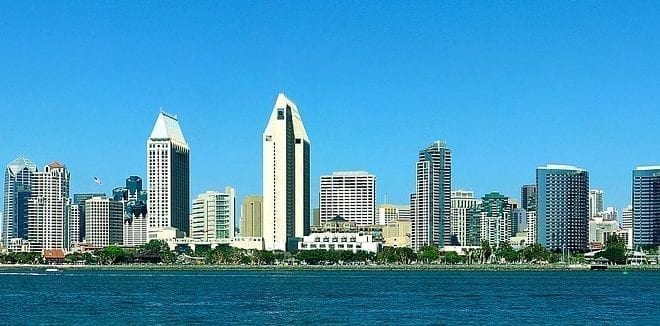 Dining
10 San Diego Area Restaurants Named in OpenTable's Most Scenic Restaurants in America List
By
|
OpenTable has released its list of the 100 Most Scenic Restaurants in America. Feature breathtaking views from coast to coast, the restaurants featured on the list offer the perfect backdrop for any occasion. California restaurants smashed the competition, with 28 restaurants making the list. San Diego area restaurants made an impressive showing with 10 dining destinations.
The 100 Most Scenic Restaurants list for 2018 was generated from the 12 million verified OpenTable diner reviews for more than 28,000 restaurants in all 50 states and Washington, D.C. Qualifying restaurants were scored and sorted according to the percentage of qualifying reviews for which "scenic views" was selected as a special feature. Without further adieu, if you're looking for a place to dine with some of the best views in the country, be sure to visit one of these San Diego restaurants.
Bertrand at Mister A's
This sophisticated rooftop restaurant is one of San Diego's toughest reservations. With a strict dress code, fine French-inspired American Cuisine that consistently earns rave reviews and national awards, and the breathtaking view of San Diego's cityscape, this restaurant is perhaps our city's most iconic fine dining establishment.
Duke's
Duke's La Jolla overlooks the La Jolla Cove and serves contemporary Hawaiian/Island cuisine. As a tribute to Hawaii and Southern California beach lifestyles, Duke's interior is adorned with surfing themes and bright colors. With unmatched views of the Pacific Ocean and La Jolla Shores, it's a beautiful place for dinner, lunch or brunch.
George's Ocean Terrace
Another La Jolla hot spot is George's. Overlook one of the most stunning coastlines in the country and watch the sunset. The patio is open year around because, in San Diego, weather isn't something we worry about too much.
Il Fornaio Coronado
Il Fornaio is right on the water in Coronado, overlooking the bay and San Diego's downtown skyline. Enjoy fresh and delicious Italian dishes, flavorful pasta, a great selection of wine, and so much more.
Island Prime
Island Prime on Harbor Island is just a hop, skip and jump from the airport, but miles away from the stress of travel. This steak house is on San Diego bay, lending itself to comfortable dining year around. Watch the sail boats go by and enjoy a perfectly cooked steak and red wine. Life doesn't get much better.
Jake's Del Mar
Jake's Del Mar is right on the beach in Del Mar and serves up flavorful seasonal dishes with coastal inspiration. Enjoy great seafood and refreshing cocktails all day, including happy hour or a weekend brunch buffet.
The Marine Room
Yet another La Jolla staple, this San Diego restaurant brings to meaning to waterfront. Pounding surf literally beats against the glass as you enjoy your meal, giving way to spectacular and dramatic views.
Pacific Coast Grill – Cardiff
Pacific Coast Grill's oceanfront venue serves up unique coastal cuisine with a great selection of seafood. Enjoy oysters from the oyster bar, sushi rolls, and a wide selection of "turf" options as well.
Poseidon Del Mar
Take in the night on their beautiful outdoor patio. The food and beverage program stands up well to the spectacular ocean view. Stay for sunset or watch the whales off the coast for an evening to be remembered.
Tom Ham's Lighthouse
Tom Ham's Lighthouse is the second Harbor Island restaurant to make the OpenTable list. Serving a 100% responsibly resourced seafood menu, you can feel good about your meal while taking in the beautiful view of the San Diego Bay.
The full list of 100 Most Scenic Restaurants in America, according to OpenTable is as follows:
Altius – Pittsburgh, Pennsylvania
Bartolotta's Lake Park Bistro – Milwaukee, Wisconsin
The Bay House – Naples, Florida
Beachcomber Cafe – Crystal Cove – Newport Coast, California
Bertrand at Mister A's – San Diego, California
The Bistro at Gervasi Vineyard – Canton, Ohio
Black Bass Hotel – Lumberville, Pennsylvania
Blue Moon Fish Co. – Fort Lauderdale, Florida
Blue Ridge – Asheville, North Carolina
The Boathouse – Lake Buena Vista, Florida
The Boathouse at Rocketts Landing – Richmond, Virginia
Boat House Waterfront Dining – Tiverton, Rhode Island
Boatyard – Fort Lauderdale, Florida
Carrol's Creek Cafe – Annapolis, Maryland
Catch LA – West Hollywood, California
Chart House Restaurant – Lake Tahoe, Nevada
Chart House Restaurant – Weehawken, New Jersey
Chicago Cut Steakhouse – Chicago, Illinois
Clinkerdagger – Spokane, Washington
Columbia Restaurant – SandKey – Clearwater, Florida
Dauphin's – Mobile, Alabama
Different Pointe of View – Phoenix, Arizona
Duke's – San Diego, California
Duke's – Malibu, California
Eiffel Tower – Las Vegas, Nevada
El Five – Denver, Colorado
Elements at Sanctuary Camelback Mountain Resort – Paradise Valley, Arizona
EPIC Steak – San Francisco, California
Farmhouse at Rogers Gardens – Corona Del Mar, California
Five Sixty by Wolfgang Puck – Dallas, Texas
Fleet Landing Restaurant & Bar – Charleston, South Carolina
Four Winds Steakhouse – Wills Point, Texas
Gaonnuri – New York, New York
Geoffrey's Restaurant – Malibu, California
George's Ocean Terrace – San Diego, California
The Grand Marlin of Pensacola Beach – Pensacola, Florida
Greens Restaurant – San Francisco, California
Harbor House – Milwaukee, Wisconsin
Honu Seafood and Pizza – Lahaina, Hawaii
Il Fornaio – Coronado, California
Iridescence – Detroit, Michigan
Island Prime – San Diego, California
Jake's Del Mar – Del Mar, California
Joe Muer Seafood – Detroit, Michigan
Kaluz Restaurant – Fort Lauderdale, Florida
The Lakehouse – Bay Shore, New York
La Mar by Gaston Acurio – Miami, Florida
Latitudes on Sunset Key – Key West, Florida
Legal Harborside – Floor 1 Restaurant and Market – Boston, Massachusetts
The Lobster – Santa Monica, California
Lobster Shop South – Tacoma, Washington
Lone Eagle Grille – Incline Village, Nevada
Mama's Fish House – Paia, Hawaii
The Marine Room – San Diego, California
Mariposa – Sedona, Arizona
Mastro's Ocean Club – Newport Beach, California
Mastro's Ocean Club – Malibu, California
The Mill House – Waikapu, Hawaii
Mon Ami Gabi – Las Vegas – Main Dining Room – Las Vegas, Nevada
Monterey Bay Fish Grotto – Mt. Washington – Pittsburgh, Pennsylvania
The Mooring Restaurant – Newport, Rhode Island
The Ocean House Restaurant – Cape Cod – Dennis Port, Massachusetts
Ophelia's on the Bay – Sarasota, Florida
Orchids at Halekulani – Honolulu, Hawaii
Oyster Loft – Pismo Beach, California
Pacific Coast Grill – Cardiff – Cardiff–By–The–Sea, California
Parc – Philadelphia, Pennsylvania
Perch LA – Los Angeles, California
Peter Shields Inn – Cape May, New Jersey
Pier W – Cleveland, Ohio
The Pink Door – Seattle, Washington
Portland City Grill – Portland, Oregon
Primavista – Cincinnati, Ohio
Prime – Huntington, New York
Poseidon – Del Mar, California
Rats Restaurant at Grounds for Sculpture – Hamilton, New Jersey
Ray's Boathouse – Seattle, Washington
River Cafe – Brooklyn, New York
RiverPark – New York, New York
Robert – New York, New York
The Rotunda at Neiman Marcus – San Francisco, California
Simon Pearce Restaurant – Quechee, Vermont
Spinners Rooftop Revolving Bistro & Lounge @ Grand Plaza Hotel – St. Pete Beach, Florida
Splashes at Surf and Sand Resort – Laguna Beach, California
The Strand House – Manhattan Beach, California
Summit House – Fullerton – Fullerton, California
Sunset Terrace – Omni Grove Park Inn – Asheville, North Carolina
Tidepools – Poipu, Hawaii
Tom Hams Lighthouse – San Diego, California
Top of the Hub – Boston, Massachusetts
Top of the World Restaurant – Stratosphere Hotel – Las Vegas, Nevada
Trattoria Lisina – Driftwood, Texas
The Turtle Club – Naples – Naples, Florida
The Twisted Olive – Green, Ohio
Ulele – Tampa, Florida
Vast – Oklahoma City, Oklahoma
Ventana Grill – St. Pismo, California
Vivace Restaurant – Tucson, Arizona
Waterbar – San Francisco, California
X2O Xaviars on the Hudson – Yonkers, New York