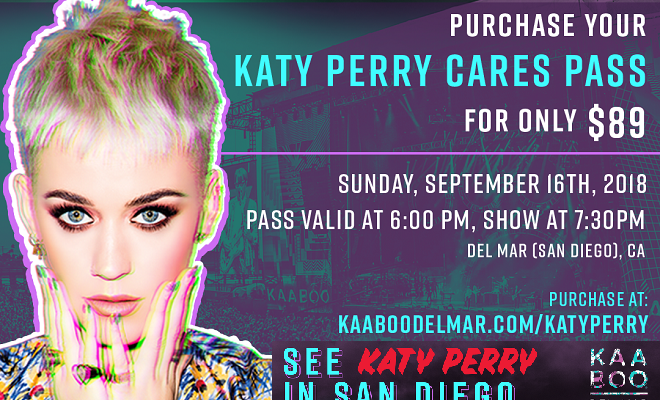 Music
Katy Perry Cares Pass offered for limited entry into KAABOO Festival
By
|
About 

KAABOO
KAABOO has shifted the festival paradigm and carved out its name among international and destination events as a lifestyle and live entertainment brand. At KAABOO, guests can receive an immersive, multifaceted and hospitality-driven experience that engages all five senses. The multi-day annual events allow guests to enjoy a world-class music and comedy lineup, an on-site Contemporary Art Fair and display of outdoor murals and installations; gourmet food and craft libations tastings; a Las Vegas-style day club, plus spa and relaxation services. KAABOO Del Mar is celebrated as San Diego's largest multi-day major music and entertainment festival.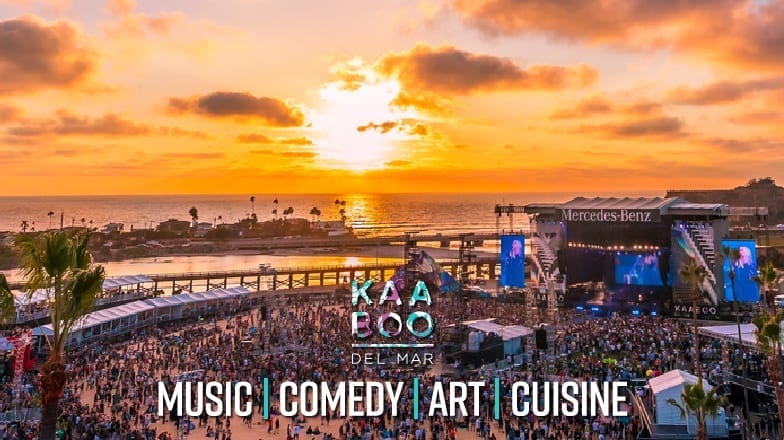 Katy Perry Cares Pass
Katy Perry and KAABOO Del Mar announced the launch of the official Katy Perry Cares Pass program. Fans who purchase a Katy Perry Cares Pass will be allowed entry into the festival starting at 6:00 pm Sunday evening to exclusively see Katy Perry perform. This announcement has excited Kate Perry fans in San Diego who just want to see Perry perform, without purchasing a festival ticket. The $89 exclusive pass grants access to Katy Perry's performance on the final day of the three-day festival. A portion of all ticket proceeds from Katy Perry Cares Passes sold will benefit MusiCares.  Get your Katy Perry Cares Passes here.
About MusiCares
A friend and ally of the music community, MusiCares was established by the Recording Academy to safeguard the health and well-being of all music people. A four-star charity and safety net in times of need, MusiCares offers confidential preventative, recovery, and emergency programs to address financial, medical, and personal health issues. Through the generosity of their donors and volunteer professionals, their dedicated team works across the country to ensure the music community has the resources and support it needs.
Last year, KAABOO officially named MusiCares as the exclusive global music charity of KAABOO, as well as a beneficiary of the KAABOO Del Mar Kindness program. KAABOO has carved out its name among national and destination music festivals by offering a curated feast for all senses featuring equal parts music, hilarious comedy, contemporary art, gourmet cuisine, and indulgences.  Now entering its fourth year, KAABOO Del Mar is slated for September 14–16, 2018. This year's event will feature performances by Grammy Award-winning headliners including Foo Fighters, Imagine Dragons, Katy Perry, Robert Plant and the Sensational Space Shifters, Halsey, Post Malone, and many more.
KAABOO's charitable giving program, KAABOO KINDNESS, was established in 2015. The KAABOO KINDNESS program continues to support charities in the San Diego region and across the globe. A portion of proceeds is donated to featured charitable partners including global partner The Recording Academy's MusiCares program, as well as three local charities including the San Diego Armed Services YMCA, Surfrider – San Diego Chapter, and Voices for Children.