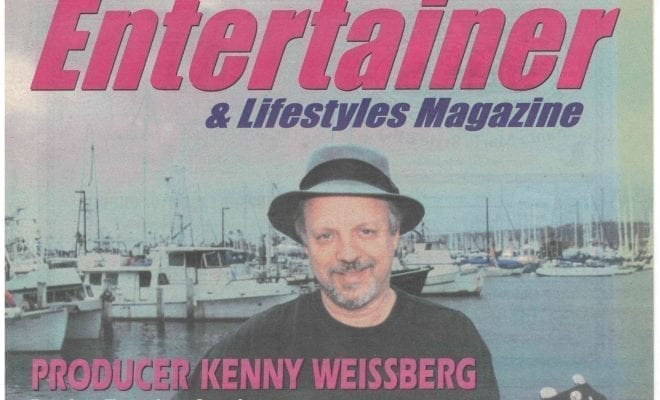 Music
Flashback Friday: SD Entertainer's May 2000 Interview with Kenny Weissberg from Humphrey's By the Bay
By
|
Let's take a trip down memory lane. In SD Entertainer's newest series #FlashbackFriday, we take a look back into the archives of the San Diego Entertainer & Lifestyles magazine. In this week's installment, let's go back to the turn of the century, 18 years ago when the San Diego Entertainer was a print publication. We'd like to take you back to a time of over-volumized hair, goatees and questionable fashion. Glad those trends are over…
As we crack open the time capsule, we're proud to present to you what was going on back in May of 2000.
In May of 2000, we celebrated the winner of San Diego's original "Best Awards". Although nearly every newspaper, magazine and TV station seems to claim to be the first, here's your proof. Back in 2000 (and for years before), the Entertainer awarded "Best Awards" for almost every category imaginable. Readers would cast their votes for all of their San Diego favorites. The Best Awards were a big deal, and really determined who was who in the town. Recognize anyone?
In addition to announcing the Best Awards winners, we covered the hottest concerts at Humphrey's. Humphrey's Concerts by the Bay was (and still is) one of the best music venues in the city, bringing out the hottest music, and comedians to town. Check out their 2000 line up including Trisha Yearwood, Olivia Newton-John, Ray Charles, The Doobie Brothers, Mary Chapin Carpenter, Ellen DeGeneres, Chris Isaak, Pat Benatar, Boz Scaggs, and more.
Also in this issue, SD Entertainer sat down with Humphrey's By the Bay then concert promoter, Kenny Weissberg to discuss how he got his start in the music industry. At this point, Kenny had been at Humprey's for over 10 years and was well regarded in the music industry. Check out an excerpt from the SD Entertainer Exclusive interview from May 2000:
SD Entertainer: Have you always wanted to be in the music industry?
Kenny Weissberg: I have known since the age of 7, that I was going to be involved in music. I really wanted to be a disc jockey back then. Growing up in South Orange, New Jersey, there was all kinds of music around. I would hear 50's and 60's music playing on the radio, not like the homogeneous radio there is today. Then there was everything with the dawning of Rock n' Roll, so you could really be exposed to a lot of different music you know like the Beatles. Then in high school, I played guitar. Went to school at the University of Wisconsin in Madison. I was first in line in 1967 for the concert that Otis Redding was killed on his way to. I was a huge Otis Redding fan. Walking back that night, I said to myself, "Even more than ever, I am going to be involved in music one way or another." At the time I was studying to be a lawyer. As soon as I left college, I told myself that I was going to get involved in music.
SD Entertainer: How did you get started in the business?
Kenny Weissberg: I ended up moving to Boulder Colorado in 1971 and became a morning disc jockey on a program at an underground FM station. I did radio from 1971 to 1983. One day in 1972 while i was on the radio, an editor of a local newspaper who would always listen to my radio show convinced me to become a journalist. I then became a music journalist for the Boulder Daily Camera for four years and I also wrote for the Denver Post. I then went on to write for national music magazines popular in the 70's like Cream Magazine, Phonograph Record, Zoo World and Circus Magazine. I was a music critic and wrote about the national acts, did interviews and also wrote about the local music scene. I was very critical and the local musicians in Boulder included everyone from the members of Poco, Steven Stills and Dan Fogelberg, Joe Walsh and others. It was an unbelievable music scene in the 70's. Those involved in the music scene would read my column every single week. I wasn't just negative, but I was critical and said thinks like, "This could be better, that could be this way." So I would get all this mail and phone calls saying, "I would like to see what you could do!" The drummer Michael Clark of the famous group Firefall would call me up and challenge me.
SD Entertainer: What were some of the first acts you booked during your first years at Humphrey's?
Kenny Weissberg: The first act I booked in 1984, the first concert I ever promoted was Miles Davis, which was unbelievable. Getting to meet him was sensational. Also in 1984, I booked Jimmy Buffet who played two shows. Right before his show started, the power on Shelter Island went our and we had to get a generator at the last minute, but since that concert, Jimmy Buffet has told everyone about Humphrey's and that is how other artists found out about us and came to play. Also during the first year, we did Ray Charles, B.B. King, the Righteous Brothers and more …. Whitney Houston's first concert of her entire career was at Humphrey's in August of 1985 and was sold out…. Something interesting is that in 1985, and agent from Triad Artists called and asked me if we had any opening slots for comedians… They said that they had a new comedian that just moved in from Denver. I said that I had just moved from Boulder so I would love to help her. It turned out to be Rosanne Barr. I remember her coming in and I introduced myself and she said, "I know you. I used to watch you from my television on the Tonight Show." So it was right before she was going to make her Tonight Show debut with Johnny Carson. That was her first concert appearance in California and sure enough she became a hit. So now I can tell my children, "Rosanne Barr used to watch me on television." So to have a show in 1985 of Whitney Houston and Rosanne Barr when no one knew really who either of them were and to have them sold out was great for me.
SD Entertainer: Besides introducing for the first time to California such names as Whitney Houston, Rosanne Barr and Kenny G, what are some of your most memorable moments? 
Kenny Weissberg: A funny thing happened during one of Ray Charles's concerts. There was a bird nesting in one of the palm trees and while Ray Charles was playing, the bird would make like squawking noises. Unknowing, Mr. Charles thought that it was a heckler and stops in the middle of a song, turns to the audience and says, "You know I dont have to take this, I am getting paid a lot of money and I dont have to take this." So his manager goes running up on stage and says to him, "Mr. Charles it's a bird." So every time I've been introduced to him back stage, the tour manager will go, "Mr. Charles this is Mr. Weissberg." And I'll shake his hand and say, "Mr. Charles, it is good to have you back." The tour manager then will say, "This is the venue with the bird." So we actually had to cut back a tree and re-nest the bird.
Mr. Weissberg has since written a memoir titled, "Off My Rocker: One man's tasty, twisted, star-studded quest for everlasting music" where he presents a backstage look at the joys and painful realities of a life devoted to music. Surrounded by an all-star cast, he shares uncensored stories about James Brown, Aretha Franklin, Leonard Cohen, Miles Davis, Elvis Costello, and countless other showbiz legends. Equal parts love story and spicy confessional, this book will take you on an unforgettable ride through six decades of pop culture. Weissberg still resides in San Diego with his wife Helen Redman.