Arts
Moonlight Cultural Foundation to Take Guests 'Under the Sea' at 2017 Gala
By
|
Moonlight Cultural Foundation, the premier nonprofit arts foundation supporting North County San Diego, will host their annual summer gala, "Under the Sea," on Saturday, June 3, 2017. This much-anticipated black-tie event will be a night of enchantment on the Moonlight Amphitheater stage. Guests will enjoy a gourmet sit down dinner, silent and live auctions, and top-notch entertainment courtesy of Moonlight Stage Productions. Gala co-chairs are Kathy Naylor and Diane Waian-Hunten.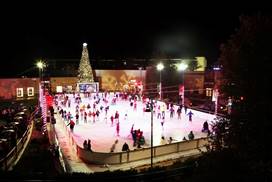 Proceeds from this event benefit Moonlight Cultural Foundation's North County San Diego arts programs, including the City of Vista's award-winning community treasure Moonlight Stage Productions and the hands-on workshops, training, and productions organized by Moonlight Youth Theatre. Foundation leadership believes the arts transforms communities.
Their partnership with Moonlight Stage Productions brings together San Diego County families and theatre-lovers to enjoy professional onstage performances, often for the very first time. In collaboration with the Vista Education Foundation and Forte For Children, the Moonlight Cultural Foundation provides opportunities for young people to develop leadership skills, confidence, and creativity.
Established in 1974, Moonlight Cultural Foundation is the premier 501(c)(3) nonprofit arts organization dedicated to promoting culture and diversity through theatre. With a strong focus on North San Diego arts programs, the foundation's main initiatives are youth theatre training programs and supporting the City of Vista's Moonlight Stage Productions and its annual summer season of Broadway musicals. With financial, marketing, and program support from the foundation, Moonlight Stage Productions is regarded as one of Southern California's most professional and mature arts institutions, and position Moonlight Amphitheater as a cultural destination location.
More Information
Saturday, June 3, 2017
6:00 p.m. to 10:00 p.m.
Moonlight Amphitheatre
1200 Vale Terrace Dr, Vista, CA 92084
Tickets are no longer available